The Amazon rep, who tried and tried and was ultimately UNSUCCESSFUL at delivering product to us at Chicken, Alaska, coined the name; and we thot it was appropriate for the WHOLE TIME we spent in and around Chicken, Ak. !!!
I should tell the "END" of the Amazon story, first.
Alexis TRIED to get product re-shipped by USPS. She tee'd up another order — the first was sitting at the Fairbanks UPS terminal waiting for us, but they would NOT hold it for 2 weeks until we got there. She THOT she had a trick to force their systems to use USPS.
As a former "systems guy" I was getting a little tired of Amazon saying "Our System won't let us" and "We have to trick the system…" or "It's out of our control…" THESE ARE NOT good excuses…systems should work for US, not the other way around!!! But, I reminded myself, I am retired now, and these are other people's nightmares – except when I cannot get parts that I need delivered!!!
Alas, the shipping notice I received for Alexis' attempt showed it had AGAIN been sent UPS and would AGAIN wait for us in Fairbanks (but not long enuf). Soon there will be a "Harris" locker – or ENTIRE ROOM – at the Fairbanks UPS facility!
In the meantime, I set up an arrangement with an RV Park we decided to stay at for the 4th of July celebration – in North Pole, Alaska. That park said they can (and do!) receive things by any of the major carriers, and would be HAPPY to hold stuff for us. So I reordered, and had stuff shipped there. IRONICALLY, after all the hassle TRYING TO USE USPS to Chicken, and redoing to a destination that was agnostic about which, Amazon's mysterious "systems" chose USPS to deliver to North Pole. So the end result of "Operation Chicken" is that Alexis was ultimately unsuccessful at bending Amazon's systems to make a simple delivery to a place their systems had already delivered other stuff. NOT legendary customer service, and a lesson in how systems should NOT work.
____________________________________________________
Since this Blog is 2 weeks behind due to Wifi or lack thereof, I can jump ahead to the end of this story, before returning to the Top of the World. Product had been ordered no less than 4 times — three ostensibly for delivery to Chicken, and once by me as a replacement of the items that clearly were NOT going to get to Chicken. Amazon issued a credit for all the product on the other three PLUS a $50 credit for my trouble. And I DID receive everything I re-ordered to North Pole!

HOWEVER, I also received another set of things in TOK, where UPS somehow tracked me down, AND I continue to get delivery attempt notices from UPS in Fairbanks.

I called Amazon to try to figure out how to return the extra sets of things. After being on the phone with them for 45 MORE minutes, they finally said (IN WRITING) to just KEEP ALL THE PRODUCT. They couldn't figure out how to ship it to me, and they for damn sure couldn't figure out how to accept a return!

So, now I have 3 sets of walkie-talkies, 3 air-blend doors for the Jeep repair and a shit-load of circuit-breakers, pilot lights and windshield wiper hose. Steve suggested we should start an ebay store!
__________________________________________________
Getting to our Appointment With Destiny (and associated Music Festival) in Chicken, Alaska involved the usual adventure (in a good way).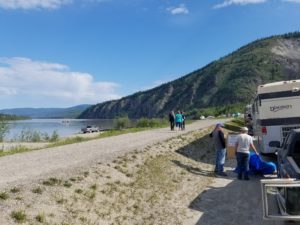 The first step was to await the ferry in Dawson City, the "wet" part of the ALCAN Highway and the ONLY way across the Yukon River. The ferry is free, you just get in line. Well, the day we left, the line was about 15 RVs long (plus an assortment of cars, trucks, ATVs, bicycles, motorcycles, etc.) The Ferry can take AT MOST one RV per trip. Each round trip was about 15-20 minutes. SO, we waited every bit of FOUR HOURS to get across.
Not a BIG issue for retired folks. The only "Deadline" was to make it 60 miles or so to the USA border crossing before 8:00 PM when it closes. I knew this was the last gasp of Cell and Internet for awhile, so I did some "stuff."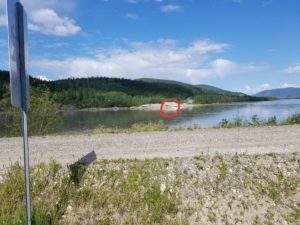 Liz, on the other hand, went across before me…we had unhooked the car figuring it would be easier to get on and off and give them more loading flexibility. Anyway. Liz went a couple of hours before me, and drove up the hill and disappeared on the other side. I KNEW (hoped) she hadn't deserted me…I was pretty sure she wouldn't because I HAD THE WINE on board!
In fact, she found a nice pull out, and worked on her knitting!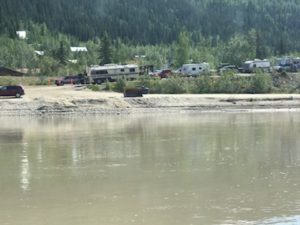 Just when I got to the head of the line, as luck would have it, there was a shift change. The old ferry workers took off, and new ones came on. They had to run safety checks, verify fuel levels, etc. I waited about 30 minutes before RV WHERE YET was loaded.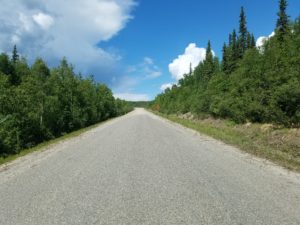 After the ferry, we hooked up and headed across the "Top of the World Highway." "Highway" does not honestly describe the Gravel Road (though it DOES describe the altitude!), which was MOSTLY pretty smooth and easy to drive, as long as you don't exceed 30MPH. Marked speed limits were optimistically higher, and so were ignored. Since the grades were as magnificent as the scenery, we could not have exceeded 30mph if we had wanted to!!!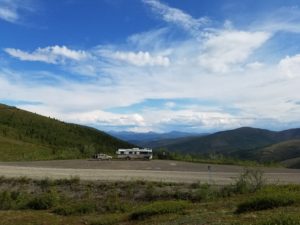 The scenery was ABSOLUTELY MAGNIFICENT. You are, in fact, on the Top of the World….the highway ascends above the treeline and we could see for 50 miles! At least until the weather closed in – not heavy rain, but enough to turn the road into a wet, sloppy mess.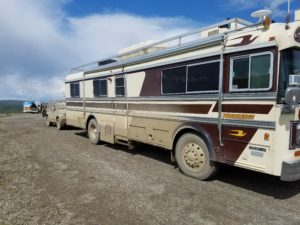 I cannot begin to describe the texture of the slop kicked up off the road by the bus, covering EVERYTHING underneath and behind the front wheels of the bus. The Jeep had about 2 inches of what appeared to be wet concrete adhering to the front. The Bus stair would not extend – the piston was caked with the stuff.
The fuel/Water filter (called a "RACOR" filter) was similarly coated, and at one point, a warning lite "WATER IN FUEL" came on. I pulled off and when I opened the filter bay and saw the mud, I knew that this was not ACTUALLY water in the fuel, but an issue of the mud shorting the sensor electrodes externally. I was especially sure of this because I had read that the road surface is actually coated with Calcium Carbonate and that is worked into the mud, now coating everything. An electrolyte, this would surely make a GREAT connection across the leads on the filter.
I cleaned off the mud with some distilled water, then covered the filter with a baggie to prevent a recurrence. I also realize we MUST rinse off the mud as soon as practical from the undercarriage – Calcium Carbonate is MORE caustic than standard road salt.!!!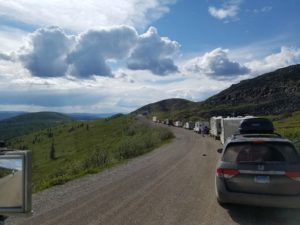 Once we made it to the Border Crossing (advertised as the northernmost US Border Crossing), we discovered quite a long line. Now, there is NOT much traffic, so something was WRONG. We discussed this with a clot of people standing around – apparently, the Border Crossing Station's generator had failed. They could not run people's passports thru, and they were NOT going to just let people through unchecked – who knew how many Central American Rapists and Criminals may sneak in.
Sorry. No politics.
It was getting late, and we were beginning to think we might spend the night on the road-side after the station closed – which would have been FINE for us, with a full fridge and fresh water tank. I was thinking we'd be sharing with our neighbors – at least the bathroom. I saw there was a big RV at the head of the line – I recognized the fella from the ferry line ahead of us. I suggested he might be willing to connect HIS generator to clear the line…I would have gladly allowed them to use mine, but I was ½ mile back, and did not want to appear to be jumping the queue. This turned out to be unnecessary…After about 20 minutes (for us – others had waited more than 2 hours), they got the generator fixed, and the entire line was cleared in 10 minutes.
Once across the border, we drove about 30 miles to Walker Fork BLM Campground. Actually a VERY nice spot. We parked for two nights there, and during the day between, we unhooked the car and drove up the road to a town called "Eagle, Alaska." Before we could go ANYWHERE in the car, we had to somehow remove SOME of the accretion from the Top of the World. A bucket filled with water from the river would have to suffice!
We chose to go to Eagle because it is TRULY at the end of the road. There is no power (except by generator), no water, no sewer, no phones (other than satellite). 85 people live in Eagle. Others had told us to go there just to go there, so we thought "What the Hell."
They told us NOT to drive the bus up there, hence the reason we parked at the BLM Campsite, and not just at one of the roadside pullouts (there are MANY in Alaska). A pullout would be fine for an overnight, but I would not have been comfortable leaving the bus unattended at one for a full day.
We are REALLY GLAD we took the car – the road was passable – the bus would have physically made it – but it was 1 lane in many spots, with some serious grades. It took us 2.5 hours in the car to cover 65 miles – would have been double that in the bus AT LEAST.
Eagle turned out to be an interesting place. We were immediately stuck by the true feeling of living at the end of the road. And a road that is NOT cleared in the winter. There is not much in Eagle. There IS a Hotel and Café, and a Gas Station, And a Grass Airstrip. There is a historic Fort. The library has Internet (barely) and we were able to check email in the parking lot (which is a fancy name for a wide spot in the Gravel road).
Up until 2008, there was a tour company that brought people there by Riverboat, and than Back to Whitehorse or on to Tok by Bus. In 2009, the river flooded due to a HUGE Ice Dam on breakup. We saw a video – like watching the Fukashima tsunami in Japan only slower motion! Destroyed the boat. The tour company repaired it, but the next year the Road washed out – for almost the whole summer. All cruises had to be cancelled because the tourists could not get on the bus for the second half of their tour. They just never started up again. So now, there is even MORE of NOTHING going on in Eagle.
And the people that live there SEEM TO LIKE IT THAT WAY.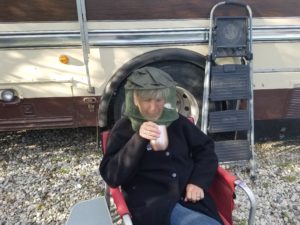 After our Day Trip to Eagle, we returned to the BLM Campground, where Steve and Kathy were waiting. They had decided to leave Dawson City a day after us, and my last byte of internet service had been used to tell them that we were planning to get to the Walker Fork BLM, but worst case we'd meet them in Chicken the day after. They found the BLM and we had cocktails together. Inside, due to mosquitos!
All at once Steve said "LOOK!." There was a HUGE Moose, not 50' from the coach. It seemed to me his face was at eye-level – and the window of Steve's coach is much higher than ours – about 7' off the ground. An ENORMOUS Animal…looked at us for a moment, then casually strolled into the brush, walking towards the river.
Ho Hum. Just another day in Alaska!
Of course, the "Day" is 24 hours long, so it is not surprising that one can pack a lot of adventure into it!