A thought for the day courtesy of Harry Truman…
Our last missive described our first pass through Missouri, and KC in particular. Since we missed the Truman Library (it reopened after a 2-year remodeling project THE DAY AFTER WE LEFT…) we decided to bend our route back through. Not really out of the way, as we were heading towards Iowa for a Corn-ucation event (sounds dirty, doesn't it?).
I also mentioned crashing former business partner Steve Sawatski's family reunion at the Lake of the Ozarks. Sadly, Steve told me that his extended family had unanimously rejected my application for membership! They HAD (also unanimously) approved Liz's application — He would neither confirm nor deny that this was a sympathy vote.
So, instead of waxing philosophic about my new-found family, I will talk about the Lake of the Ozarks area a bit.
We HATED it. It seemed like every single inch of shoreline had either a multi-boat docking arrangement or a huge mansion. We stayed at a campground that was grafted onto the back of a LOO institution: Frankie and Louie's Beach Bar, where all sorts of fried food is over-served to over-inked folks planted firmly in beach chairs – with docking space for 50 boats at least out front.
I don't want to seem like a snob here (how could I – we live in a Bus!), but "class" does not vacation at the LOO. (Hmmm…pun intended?).
We left our brief audition for Sawatski Family Membership, and continued on to another LOO spot – Warsaw, Mo. This town is small, quiet and nice, actually. It is at the top of the LOO, and directly beneath the Dam that creates another large Lake – the Harry Truman Reservoir; but It seems to get traffic and commotion from neither. We spent a couple nights, and had a couple of nice (and interesting) surprises!
Liz is certain that is going to get us arrested some day!
First, we noticed another Bluebird in the Campground as we pulled in. No one "home" when I knocked, but normally we'd just keep trying…Liz is quite certain that me, peering into windows of random buses is going to get us arrested some day!
Before THAT could happen, just a little later there was a knock at OUR door — This turned out to be Moh and Cynthia Machuga, whom we met only briefly, once before. They are full-timers, but still young and working (instead of old and retired) for a Natural Gas Pipeline Safety Inspection company. Since they were working, we agreed to meet for dinner the following evening at a place called the "Yellow Deli," which has a "you cannot make this sh*t up story about it…"
We had walked about the town the day before, and had noticed this deli because of its sign:
"OPEN 5×24."
I needed to know so many things about this. Like, why a deli in a small town in Missouri needed to be open 24 hours. And, if so, why only 5 days.
Turns out that the "Yellow Deli" is sort of a cross between a Commune and a Religious cult – there are some pretty weird stories online – but as usual with online sources, I cannot be sure the veracity of any of these. I did learn that there are actually a BUNCH of Yellow Delis around the world, in fact (Sydney, Delhi, Chattanooga, etc.); The members work at the restaurant, the associated farm, bakery, etc. 24 hours each day thru noon on Saturday, and then they reopen at 6AM on Monday; the intervening hours are spent in worship.
Given the cult-like orientation, I expected my sandwich to come with a side of hard-sell salvation, but it was nothing like that. Very friendly place, excellent food, and even some stories about how Harry Truman had given speeches in that very building, from a balcony. We managed to leave Warsaw with our souls uncultified, heading towards Kansas City…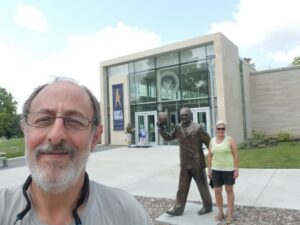 You may recall from a previous post that we missed out on the Harry Truman Library as it reopened after a 2 year renovation exactly ONE DAY after we departed KC. This we rectified by acquiring advance tickets and scheduling another stop at the RV park adjacent to the Ice-Cream-Cone-Cathedral. And, the museum did NOT disappoint!!!
You could tell it had been open only for a few days because all of the buttons – every single one – on the various interactive exhibits all worked as intended. And, the omnipresent Museum Shop, through which you de rigeur march upon exiting the exhibits, was not yet stocked/open.
The content of the museum, as with all Presidential Libraries, was eye-opening and thought provoking. Of course, these museums tend to paint only the positive picture of the President in question – even Nixon had SOME positive results (or at least attempts and thoughts) in his political career. Truman might have been one of the few who had few pretenses, exaggerations or self-aggrandizement evident in his life. He was just "a guy" elevated almost because no one knew anything about him and he had few if any visions of grandeur, only of service. He became Vice President precisely because the party insiders KNEW FDR would soon pass, and Truman was inoffensive to all parts of the Democratic party. Simple as that.
As if to emphasize his "common-ness," the home he retired to after serving, and to which he TOOK THE TRAIN, is modest by any standard. I feel like, in my lifetime the only other that is in this category would be Jimmy Carter, whose humbleness and service-orientation is all about the common good and nothing about himself.
While in KC, we also availed ourselves of the opportunity to experience more variations of the City's claim to fame: BBQ. This time, we went to LCs , Gages and also to Jack Stack's. Of the three, all were EXCELLENT, with LCs the least pretentious (its all about the MEAT) and, at least in our opinion, Jack Stack was the best.
While in KC, we noted a bit of "wetness" and "squishiness" in the Bus' kitchen area flooring. This needed some investigation, and upon undertaking this, I discovered the shower leaking again from a previously (and apparently temporarily) repaired spot. This spot could only actually leak if the bus was not quite level in a particular direction, which evidently we were in KC.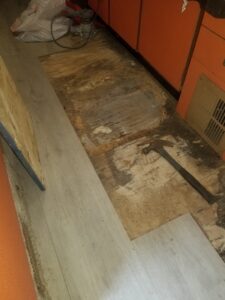 The leak was this time fully and permanently (well, hopefully!) repaired with fiberglass resin. And now that we knew the issue, I removed flooring and discovered significant softness in a MUCH bigger area than I realized. Clearly, there had been some leaking going on from the icemaker, which we removed back when we first got the bus. The latest wetness had merely revealed this further issue.
Sooooo, we left the flooring OFF to let things dry out completely and I considered how to make a lasting repair.
While drying, we made our way OUT of KC towards Iowa (again!). This time, we anticipated spending a few days, eating more corn, and making another trip to Chicago…the latter to manage some pretty major repair projects on our building. This is where the train went off the rails for us for a couple weeks, which needs SOME coverage here.
Let me preface this by expressing our EXTREME gratitude for our friends, the Florers, who allowed RV WHERE YET to park on an open-ended (as it turned out) timeframe while we dealt with the flooring and Chicago issues.
More on both in the next post!!