Our trips (yes, TRIPS!) to Chicago were in part necessitated by a cascade of building maintenance items that, together, added up to some pretty major expenses AND the need to involve the City of Chicago Building Department. I know, redundant, right?
Part of our time there was actually planned well in advance related to Doc and Dentist appointments, with the usual meals with friends, Burritos, etc. All good!!
But, unanticipated Item #1 was replacement of aging roof-deck railings in front of the house. We've always tried to be upfront with the city about projects, and so we actually pulled a permit, scheduled and managed the repair.
After the railings were constructed we had some "logistical issues" with the inspector and scheduling. He wanted to come on a particular day, but that was the ONE day we could not be there, due to Doc Appointments so we offered ANY other day at his discretion. Instead, he showed up on the day he KNEW we could not be there and called to ask where I was. I reminded him that was the one day I could not be there, which he only vaguely remembered (even though we had discussed it less than 24 hours before).
Then he dropped the bombshell…
he was going to have to write a violation!
The deck he was due to inspect, tho we weren't there, appeared to him to be, from the street level 2 stories down, ILLEGAL due to setback requirements, and he was going to have to write a violation!!! I told him the deck was built 17 years ago under a permit WITH city building department approval and appropriate zoning variations included in said APPROVAL. He said the city had no record of this – how could this be, I wondered, considering all the paperwork and effort undertaken in the process. He admitted the city had no records of ANY KIND from 17 years ago.
AAAAACCCKKKK!
Apparently, the lack of record-retention of said approval was now my problem to deal with – in his view (and by extension, the City's) the deck was illegal.
I wonder how this all would have resolved if I hadn't been able to locate the approved plans.
He agreed NOT to write a violation (yet) because I was pretty sure I had a set of plans that showed the deck AND the approval. I suggested that he come out to inspect the railings and while there could take photos of whatever documents he needed (assuming and HOPING I could find them!) to verify the deck's right to exist — LEGALLY and APPROPRIATELY constructed back in 2004. He agreed, and when presented with my roll of documents extracted from a fortuitously-saved tube during our downsizing, noted the plans indeed showed that everything was done "by the book." Even though the city seems to have lost the book.
He did approve the railings and signed off on the permit, but since that was WAY TOO EASY he later decided to rescind approval until we made a couple additional changes.
DOUBLE-AAAACCCKKKK. That sound you hear is me, gnashing my teeth while arranging more contractor work a month later, still not done as I write this. But, we'll get there, and hopefully (but with no certainty whatsoever) the city will have and maintain a record of this so we won't have to go through the "Your Deck is in Violation" issue again.
And, all of the above was NOT the only project undertaken in Chicago while the bus was in Iowa. Our building also had a leaky roof in the back. Easy, right? Nope.
The A/C Condenser for one of our rental units sits on that roof, was 17 years old and would need to be moved before the roof could be repaired. The HVAC folks were VERY reluctant to move it temporarily off the roof – there was a significant chance it would not work if disturbed in this way AND the old refrigerant is now almost unavailable (read: EXPENSIVE). They would offer NO assurance whatsoever, but were willing to move it if we wanted.
Instead, they recommended replacement of AT LEAST the A/C Components, and while we were at it, they STRONGLY recommended replacement of the furnace as well (also 17 years old). (Read: ALSO EXPENSIVE).
All of this I DID accomplish, actually.
We reluctantly agreed to both, but now I had to stage all the work so the AC could be removed, the roofers do their thing, a carpenter replace the fire escape doors AND install new steps and a new railing around the fire escape AND finally the HVAC work could be completed. All during the 10 days the tenants were on vacation so as to disrupt them as little as possible.
Naturally, the building inspector (same guy) liked most of the work, but wanted additional work on a railing by the rear fire escape stairs. So THAT project, too, is still not quite complete. Bottom line: this was a big expense, and a bigger aggravation, so much so that Liz and I are now both of the opinion that we need to sell our Chicago property, even though we are nowhere near ready to replace it with something, somewhere else. Spring 2022 is our target.
Anyway, we left Chicago to head back to Iowa with Chicago work 90% complete and the end in sight. We got only as far as western Illinois when the Jeep's CHECK ENGINE light went on. In the past, that has been a TINY EGR leak (it even sez exactly that on the Code Reader) – not a significant issue. But this time, it WAS – the error codes were transmission related, and the car would not go out of second gear!!!! We pulled off on an exit ramp, and called roadside assistance.
At least they agreed that wasn't "Dave."
The RA folks first suggested that they have us towed to "Dave's Service" in a nearby VERY SMALL town. I knew we had severe transmission issues, and I knew Dave wasn't likely to be able to repair or rebuild our transmission, so I asked if we could be towed all the way to the Florer's in Des Moines, where the bus was. Sure, no problem, the RA folks said – that will be $600. The agreement is a free tow to the "nearest qualified service option."
After a bit more discussion, we agreed that "Moline Transmission Service" in, as you might imagine, MOLINE, would be a good choice. This was about 40 miles, the tow to which would be covered by RA. The RA even called them – they could look at it first thing in the AM.
While the tow truck was on the way, I looked up overnight options in Moline, and found a Red Roof Inn very close to the transmission shop. The tow truck driver unhooked the jeep and, since it was now after 5, agreed to take us to the Red Roof. When we got there, he looked at me, then Liz, and then back at me. YIKES!!! Influenced in some combination by the immobile cars in the lot, the drug deals happening around them and the ramshackle appearance of the Motel itself, we all instantly and with no discussion required agreed he would take us to the next-closest hotel for our comfort and safety!
That evening at the Best Western, we asked at the desk for one of those "emergency toiletry" kits that hotels have for emergency guests like us. We have toiletries, of course. Two sets, actually, but these were in Chicago and Des Moines — why would we have one with us for the brief ride between the two? The clerk looked at me like I had a hole in my head…No such thing, she had never HEARD of such a thing and could not believe I had never been to a hotel that did not offer such a thing. Closest place to get a toothbrush: a grocery store about a mile away. Oh well, we both felt like a walk was in order.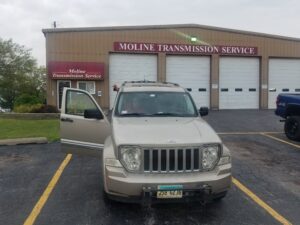 The next day, we walked to the Transmission shop, where Mike, the owner immediately took the jeep in and gave it a look. He came back in 10 minutes with a dire look and a dipstick dripping charcoal-colored fluid: The transmission was TOAST, and it would take him at least 2 weeks to rebuild – and we weren't first in line even (he said he could figure that out, but still it would take at least a week to get parts). I asked and he tried to get it patched up enuf to function to at least Des Moines, where we could find a shop and could easily wait indefinitely; our "home" being resident there next to Florer's barn.
He hooked up his computer, drove it, poked at the engine computer — worked on it for about 45 minutes, and finally came to us with more bad news: it could not be made to "work" temporarily. But also good news: it would work indefinitely in 2nd gear "limp mode." He said "don't drive faster than 50mph – you'll make it to Des Moines." I asked him if we could "hurt it worse by doing so," and even as I said it I knew it was a stupid question. He said, "It's toast – you cannot make it more toast! Just don't go too fast too long and blow the engine, too!" And, he said, he has known people who, lacking the funds to actually repair their transmission, limp around in 2nd gear for years.
For all his work, he would accept NO MONEY, and made a couple of recommendations for shops in Des Moines. If, God-Forbid, you ever need Transmission work near Moline Illinois, be sure to get towed to Moline Transmission Service (1521 46th Ave – ask for Mike)!!
40 mph makes Iowa seem as big as, if a little greener than Texas
So, off we went, I set the cruise control at 40mph (DEFINITELY not wanting to blow the engine, this was the LOWEST SPEED it would engage at) and we took backroads across Iowa. I can say this: 40 mph makes Iowa seem as big as, if a little greener than Texas! On the positive side, we had ample time to start to discern the differences between individual stalks of corn along the roadside!!
And, we did make it to the Florer's, and of Mike's recommended two Transmission Shops willing to work on our's, the one we selected promised a week faster delivery (which turned out to be optimistic as they had trouble getting parts shipped) for a little more money. The repair was completed, and more (SIGNIFICANTLY more) $$$ expended in what has turned out to be a VERY expensive month for Los Harris.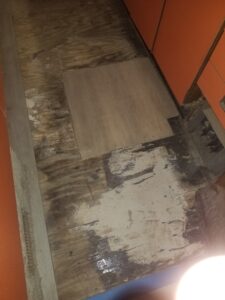 While awaiting Transmission repairs, I turned to repairing the flooring in the bus, now thoroughly dried out by virtue of sitting in the Florer's air-conditioned shed for a couple weeks. Option one I had used before, after the initial leak in the area: "PC ROT," which is a very thin epoxy resin that soaks into rotten wood before hardening. My initial repair, years ago, used this product together with some epoxy-putty to fix and level the initial leak-damage.
Although this repair was holding up GREAT, the new area was much larger and more raggetty, I decided on Option #2: I needed to cut out the plywood and fit in a new piece. In doing so, I discovered that the previous owner had actually tried to repair the Ice-maker-leak damage with NAILS driven through the mushy-plywood into sheet metal. NOT the appropriate technique, and this is why the whole area had started to fail.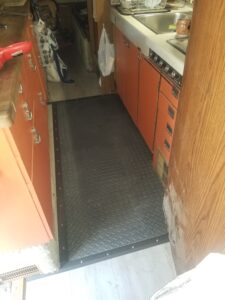 Sooooo…. I after I cut out the bad area of plywood, I bought a piece of ¾" ply at Home Depot (not as expensive as it has been, but still 3x what it should have been) and spent several days whittling down the plywood until it fit like a puzzle piece into the gap in the flooring. Glued it down to the still-in-good-condition sheet metal underfloor with construction adhesive, sealed with PC ROT for good measure. We then decided to cover this area with foam tile – easier on the back when cooking AND easily removed in case of future water issues.
All the while we were dealing with these aggravations, we continued to enjoy the EXEMPLARY hospitality of our friends, the Florers. This included a LOT of corn, but also some fun, like a trip around the reservoir in the U.S.S. CINDY LU. This is the boat Steve bought and maintains for just such delightful evenings, and which he named after his wife. I asked him if Cindy knew that he had named what he himself had referred to as an unreliable moneypit (even more so than his Bluebird!) after her. No answer was forthcoming.
So, now, with both vehicles, if not our building in Chicago fully repaired, we were about ready to head out – towards a long-scheduled college reunion of sorts and a family event in the Minneapolis area. Sitting on the Florer's porch watching our last Iowa sunset until corn season 2022, I asked Steve if he'd take a look at some ideas I had about mounting a bigger, better BBQ on the bus. I had been thinking about this – the grill we have is functional, but very small and has issues at low temps (smoking food). I knew we could do better!!
Well, after a bit of discussion (I was really thinking of this project as a "down the road" thing – was just wanting to bounce ideas off of Steve), I turned my back and the next thing I knew, Steve had his welding equipment set up and was cutting pieces of tube to make a hinge and swing-arm!!! The end result does not yet have a BBQ on it, but it will at some point. Liz was reluctant to spend the cash at the moment and I have to agree, cash flow being decidedly negative with Chicago Building and Jeep Transmission repairs. But, this would DEFINITELY be the finest BBQ mount on a Bluebird in existence with Steve's considerable Red-Neck engineering capabilities!!!!
It turns out the world's finest BBQ mount construction only took a few hours, and the end result could double as an engine hoist, it is so sturdy. After which we departed Iowa for points north – including a music festival in Duluth, a Family Festival in Minneapolis and a couple of weeks (through Labor Day) of debauchery with some college buddies between and around those.
Debauchery being a relative thing – as we are all at or approaching Medicare Age, "Debauchery" generally means staying up an hour or so past our usual 9:00 bedtime. Nevertheless, we left Iowa and the exhausted (but with seemingly inexhaustible hospitality) Florers with great anticipation!
Next post for details!!!