We've spent the past
few days hanging out on the Florida and Georgia Coasts. WITH AN AWESOME TWIST!!!
Our friends, Barb and Bob White were returning from So. Florida Cruising. We organized RV-Parks near Daytona Beach, FLA and Savannah, GA, each of which had cottages. We provided pineapple, orange and coconut juice and The Whites brought Pusser's Rum from St. Thomas — all the requirements for Pusser's Painkillers. And we had a perfectly delightful, progressive party for three days!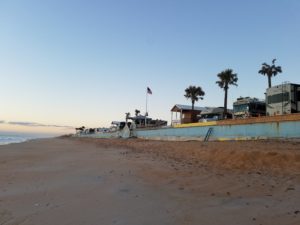 Our spot in Beverly Beach (near Daytona) was hard up against the beach…with the Whites' cottage arranged to be two spots down from us.
There, we cooked burgers, drank Painkillers and watched Blackhawks smoke the Avalanche on the Satellite…with the surf visible in the background
Then we collectively broke camp and drove a few hours north, where we visited historic Savannah, Fort Pulaski and Tybee Island Beaches, all short distances from a great RV Park (with cottage) on Tybee Island. And, of course, a few more Painkillers!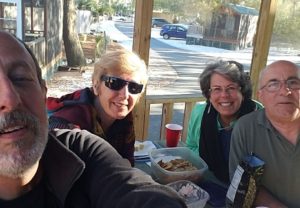 Barb and Bob just left this morning and we started to feel a bit melancholy. It was great to see friends from Chicago — folks we haven't seen for awhile. We miss everyone!!! (though to be honest, we most miss the burritos from the little place under the "L" at Addison).
And, even more melancholy… as most of you have probably realized, the Harrises will not be having any more soirees at 3642 N. Magnolia…
We have successfully rented our former home!!!
I wanted to carve out a couple days each year where we could access the deck for soirees — we even promised to invite tenants to our soirees (on their deck)! Our property manager did not think he could sell this to prospective tenants. Go Fig'r.
So, you can see why melancholy happened. Distant friends, the prospects for Soiree-less summers and still no burritos…
But, our fabulously fun days with the Whites have helped us form a "Plan B," for seeing friends and for all future events! Basically, folks just have to come to us! Wherever we are (or could be)!
Remember, for us, "the vicinity" just means somewhere on the same side of the continent… Or, with enough notice, we can manage to be on that side of the continent!!
Here is how it would (could) work: We keep you posted on our general whereabouts. If any place strikes your fancy, let us know. For example, let's say you always wanted to visit Podunk, Mississippi (yikes!). Or Noplace, Wyoming. Or, __________ (fill in the blank!) And you note we will be in the vicinity.
Getting a hold of us is easy…comment here, email, text, snapchat, Facebook or call.
All you have to do is get ahold of us and we'll organize logistics, lodging and all other party requirements, confirming any costs in advance with you. Then, all that remains is for you (and us) to show up on the agreed dates at the agreed place! And party!
We know this can work… we tested this with (on?) the Whites and no jail time was incurred for any of us!
If you think about it, please bring a burrito!