We programmed several stops into our itinerary throughout the Bay Area. All of these for the purpose of visiting friends. So over the course of 2 weeks, we stayed in Marin County, Walnut Creek, San Mateo and Santa Cruz. Each of these spots had a unique charm unrelated to the friends located nearby.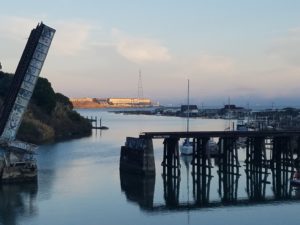 First, in Marin we used a great little RV park located hard up against the Marin Ferry to San Francisco. This allowed us easy access to friends Mark and Tracy who live in San Rafael. And, not insignificant in the big picture, near to the car mechanic who was willing to take a crack at fixing the Clown Car's broken Oil sender.
Mark and Tracy, once again, were the hosts with the mosts. In this particular instance, we enjoyed a great dinner, even greater conversation and Halloween festivities. We also watched the WORLD SERIES.
We could have done the latter in the bus, of course, but there is something special about sitting in a comfortable living room with friends. In this case, none of us really had a horse in the race. Well, I guess Tracy and Mark did, because hating the Dodgers is a sport everyone outside of LA appreciates, but we were all rooting for Houston.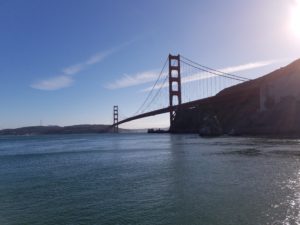 While in Marin, we hopped over on the ferry to San Francisco proper. There, we walked, by our step-trackers, over 10 miles. But of course this does not really tell the story in SanFran, where flat is memorable by its scarcity. We did a full tourist-loop (though most tourists would use the Cable Cars and/or the hop-on-hop-off buses).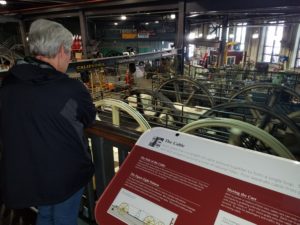 Along the way, our hiking took us to the Cable Car Garage, which is a museum as well as the functioning hub of this unique transportation network. It was fascinating to see the cableways, wheels, pulleys and motors, all in operation, as well as read about how these were invented and are maintained and managed.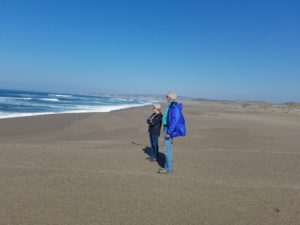 We came back down to the City with Mark, where our touring was just as memorable. We went to the de Young Museum and the California Academy of Sciences. The former was closed (it was Monday) and the latter had been evacuated by the Fire Department. So instead we walked through the Haight. And on another day we drove out to Abbotts Lagoon at Point Reyes.
Also while in Marin, we left the Clown Car at the garage of the friendly and willing technician, Yann. He discovered that the parts needed could not actually be obtained from Smart at all…the broken piece was part of a wiring harness which could not be purchased or replaced. However, Yann was able to modify a Mercedes part and with the help of a dab of silicone, effect the repair.
On the spot, I thought about bringing the bus by for a few minor fixes, as this is the same attitude required to keep our other conveyance on the road. However, NO BUS REPAIRS WERE NEEDED AT PRESENT. A very unusual state of affairs to be sure!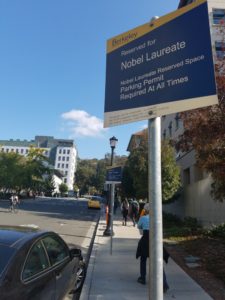 From Marin, we visited U-Cal and the People's Republic of Berkeley for an afternoon, followed by dinner with former neighbors at Magnolia in Chicago…Sara and Brian Walsh. We had a fantastic dinner prepared by Brian, and spent the evening updating each other on the goings on in Chicago—it turns out they have been back to the 'hood more recently than we.
We also got some first-hand insight into the California Real Estate Market with nuances over-top induced by Berkeley Rent control. Add to these the overt WHINING by TV Weather-folk about the "brutal Winter Cold"
a couple mornings it reached — GASP— 45F !!. MORE reasons not to live here, from my point of view!
But, We did get to sample a Bay-area delicacy, Courtesy of Brian: It's It. Yes, it is!!
After Marin, we moved on to Walnut Creek, parking in front of Dan And Karolyn Ray's home. The city of Walnut Creek has a very easy process for getting a permit to park an RV overnight for up to 3 nights. All you need is a resident to mention in the application who supports the permit.
The Rays allowed this despite the fact that we have done this to them before!
While in WC, we played Bocce Ball, did the Hot Tub thing, watched a movie and even went out for live music. The latter was billed as "Fantastic Dueling Pianos, playing any song you can recommend…" We chose this over another bar with "The World's BEST Dance Band" a bit of hyperbole we could not imagine.
The Dueling Pianos started out with a rousing rendition of Jimmy Buffet's "Why Don't we Get Drunk, and Screw" aided in full voice by female birthday-celebrants. I don't know if that might have actually happened later in the evening, tho they had the drunk part well in hand! Anyway, we left shortly into the third song, which sounded the same as the first 2 — like bad Karaoke (redundant?) without even the professional background music.
From Walnut Creek we moved on to a GEM of a spot…the Coyote Point Recreation Area in San Mateo. Our main purpose was to visit cousins Cecily and Kevin, Kevin's wife Nancy and whatever fambly might be around.
Cecily identified a GREAT RV spot not in any of our apps or directories…a county park that is sort of experimenting with RV spots. And MY GOODNESS we hope they keep doing this! The spot was "just" a parking lot, but overlooking the Bay. And sort of just south of the main landing pattern for SFO. Not so close that the plane noise is troublesome, but very cool to observe all manner of planes come and go.
Coyote Point also offered easy access to bike trails, the marina, the downtown of San Mateo, etc. And all or this at a quite reasonable (for California) cost. We'll keep Coyote Point on our short list for visits to SanFran, for sure.
We had dinner with Kevin/Nancy and daughter Virginia at their place in Menlo Park. More lessons on California Real Estate Realities (and the current housing availability crisis) as they had just added a recently legalized "Secondary Dwelling Unit" in place of their garage. Great little cottage…currently occupied by Virginia, but presumably available for rental at some point in the future. We also dined with Cecily at an Asian Fusion restaurant in Downtown San Mateo. Great to catch up with both.
During our stay in San Mateo we also had melancholy business to attend to.
As we travel we relish chances to deepen our lives' acquaintances into lasting friendships…and in so doing greatly enrich our days and souls. Our journey is way more about these personal connections than about sightseeing; and Christine and Phil were exactly such acquaintances. Tragically, we did not make our intersection with them soon enough, as Phil passed away recently after a brief illness.
We are the poorer for it — Phil was a PRINCE of a man whom we did not yet know well enough because of the constraints of time and distance. His memorial mass was 6 Nov., reminding us of this opportunity lost, and to redouble our efforts to spend time with everyone we have known over the years.
After San Mateo, our next stop was be Santa Cruz. Plan was to visit friend Phyllis Daney, enjoy some great food, adult beverages and wonderful company. And Patt and Dennis Brach. Check, and Check! We also determined that Phyllis spent the last 7 weeks in Australia…where we are intending to go (along with New Zealand) from Mid-December to end-February.
Since we know some of the same people down under, and share a love of food and adult beverages and associated fun with those people, some comparing of notes was done to ensure we fully optimize our visit.