We must have AT LEAST 100 MUST DO things by now…enough that a month would not be sufficient!
We have a bit of a quandry as we make our way to Tasmania. We have been told many times that "2 weeks is plenty" for touring and experiencing. Thus, we organized our visit around this. HOWEVER, every Aussie we talk to sez something like, "Oooh. You are going to LOVE Tassie. I will send you a list of things to do, restaurants to eat at, wineries to visit, etc. " And the lists only partially overlap.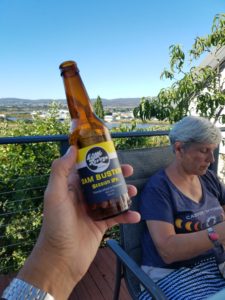 Our first stop, after acquiring our rental car, was our AIRBNB in Launceston. This was a charming house well up the hill overlooking the Tamar river, where our facilities included the usual bed and bath, but also full kitchen, exercise room and spectacular deck overlooking the river. And the BEST WiFi we have had in a while. Our hosts welcomed us once we located their drive…not altogether easy… with a plate of fresh-baked (by their 3-year-old son) scones.
Our many Tassie-Guide-Wannabees led us to believe Launceston was "not much." We chose to stay here because it was an easy drive to "elsewhere." What we found was a charming and walkable place.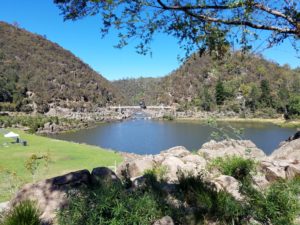 The Cataract Gorge, which runs right next to the city and 500M from our AirBNB, isn't the Grand Canyon, but is quite scenic. There is a walk up to a natural pool area that has been enhanced with swimming pools, a café and a gondola ride to the top of the gorge.
The Launceston city center had a couple of nice pubs and a pedestrian mall. Sunday, there were rowing competitions on the Tamar. And, a hokey, but somewhat charming amusement park called "Park Royale" where the highlight is a 1/3-scale pirate ship that floats around a small lagoon and fires its cannon on the hour.
For a place that was expected to be "not much," we had a couple very enjoyable days just wandering around.
We did, as originally envisioned, strike out FROM Launceston for several days of travel around the countryside. Our first such expedition sort of encapsulates our travel strategy AND Tasmania. We headed towards an interesting area called the "Tasmania Tasting Trail" and specifically for a Salmon Farm called 41 Degrees South.
Since Chicago is 41 degrees North latitude (give or take a few seconds), this seemed an obvious choice for our target. Besides, it is billed as "Gravity Fed, Green and Sustainable," the plumbing for which SHOULD be something I could appreciate, having had masses of plumbing and Aquaculture in our living room for so many years.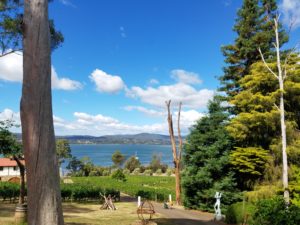 Anyway, we told the GPS to stay off highways so in addition to 41 South, which was indeed gravity-fed and very cool, we ended up at: A Cheese producer, where we acquired several tasty options for afternoon snacks; a Honey Farm and Bee Museum; a sort of off beat, but very cool Maritime Museum in George Town; a huge tidal whirlpool under the "Batman Bridge" and Marion's Vineyards (where we acquired a Chardonnay to complete the afternoon snacks). All of that in a leisurely 100-mile circuit.
Next, we drove up to Cradle Mountain National Park. A SPECTACULAR place. Very scenic, well maintained and approachable. Our intention was to stay the night in the area…at the CRADLE MOUNTAIN LOVE SHACK on Valentines Day. You cannot make this stuff up. Click Here if you doubt me!
We stayed in Andrew and Linda's "Shack" and when I found this listing, I thought this whole trip could be Shack-themed. But, alas, The Love-Shack was booked and so was everything else in a 50 mile radius. Instead, we asked a ranger for a recommendation on a day hike, for which we were given a couple options.
We struck out towards Marion's Overlook (the ranger's first recommendation). The vistas were as magnificent as the hike was challenging.
Along the way, fate smiled on us… we ran across a sign for "Wombat Poo – 45 Minutes." Liz and I looked at each other and thot, if there is Poo, there must be Wombats, and we hadn't seen one yet. So a bit of extra hiking down the indicated path.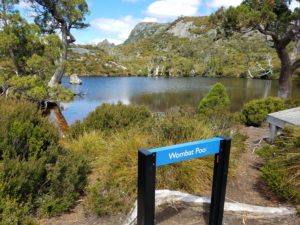 We meandered over hills, through grassland, bogs and other terrain, finally coming upon a small lake. Next to the lake was a sign, "Wombat Poo."
Now we understood: there was no Poo, this was Wombat POOL! Someone with a wicked sense of Aussie Humour had erased the "L" — from all the signs in the ENTIRE PARK.
We laughed hysterically, to the amusement (I think) of the crowd of Japanese tourists at the Poo(l). I wonder if Aussie Humour translates into Kanji?