Our last few months has been spent in one spot, more or less. This is because, as reader(s) of this Blog may remember, we have acquired our next phase of mobile operations! And it needed some work before we could well and truly hit the road in it. And, we are at that point, just about, so I thot to bring everyone up to date!
We arrived back in New Mexico in Early November, as agreed with the seller of the "potential" new bus. But, our route here was not exactly as intended, and as always that's part of the adventure!
Our intention for the period between approximately Labor Day in September and Halloween was to mosey across Canada, visiting friends in Trono, Ottawa and Montreal on the way to upstate NY, where we were to meet Peggy and Rick – friends from Alaska.
This trip STARTED well…Border Crossing was the usual non-event.
We managed to bend our path to travel thru the Algonquin Provincial Park, which was resplendent with fall colour.
SPECTACULAR and peaceful drive!!!
Then, friends Steve and Tanis Aidelbaum and Steve and Heshy Altbaum made time for us in Trono. We spent almost a week, ate and drank too much, and enjoyed the company of friends we have not seen in several years.
Next, we moved onwards to repeat that process with Blair and Fidele in Ottawa. Finally, onwards to Montreal. I need to spend a few more paragraphs on that part of the journey!
First, we connected with Joe and Shelley Havas, who met us for dinner at a famous institution: Pete's Smoked Meat. There we had, you guessed it, SMOKED MEAT. But we also had an opportunity to listen to Live music which turned out to be an excellent Blues Band with a Quebecois flavour. Really fun, and really delicious.
And really great to see Joe and Shelley!
Next, we drove up towards Ste. Adele, about an hour North of Montreal, where John Shamash lives. There we stayed at a local RV/Camping park, and there we came VERY close to a mechanical disaster.
As I parked at the campground office, I noticed a puddle of oil on the ground. I thought not much of it, as the golf cart the manager was driving looked old enough and decrepit enough to have deposited this. We were directed to our spot, and as I was setting up, connecting electric, water, sewer, etc., I noticed a trail of oil. I was still thinking it was possible that the cart had left it, since the manager had driven it to guide us to our spot.
HOWEVER, something about it made me nervous (maybe it was the spots of oil on the front of our TOAD (towed vehicle)? , so I crawled under RV WHERE YET to see whassup. And I noted a significant Oil Drip (and corresponding puddle) .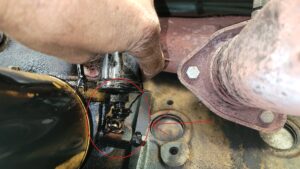 I Put my hands on the drip, which turned out to be a fitting that connected the Oil Pressure Sender to the oil pump. It was not leaking too badly with the engine off, but with the engine running (I had Liz start it for 5 seconds), the drip became a torrent!!!
That fitting must have begun its failure within the last mile before we arrived at the park!
So, here is my analysis of how close we came to disaster: That fitting must have begun its failure within the last mile before we arrived at the park! As I was contemplating what to DO about it, I actually noted a line of oil on the highway leading to the park's gate!!! I know it was NOT leaking at our last stop in Ottawa, because I always check under the bus for puddles AND because Blair had told us it was great seeing us, and we should come again. I figure if we had left a puddle in his driveway, such a gracious offer might not be so forthcoming!!!
And furthermore, at the rate it was leaking with the engine running, we would have had NO OIL LEFT in very short order!!! If THAT had happened, we would have been on the side of the road, in Quebec, needing a new engine!!
Instead, as I later learned, it had pumped "only" about a gallon of oil out in total (the engine holds 4 gallons) … confirmed when I made the repair and refilled to the proper line on the dipstick.
As for the repair – the fitting in question was something that could be easily obtained at, of all places, HOME DEPOT. Just a Brass fitting to which the Oil Sender was connected. I obtained the fitting, and a couple gallons of replacement oil (having no idea before the repair was complete how much I would need).
Just as I was finishing up, the manager of the park a delightful fellow named Michelle, pulled up (in that very same decrepit cart). He asked me if I knew we were leaking oil!!! I apologized profusely for making a trail on the campground road…he said no problem – just wanted to make sure we knew! I told him I had just finished repairing the fitting.
All in all, feeling VERY fortunate, and ready for a beer (or MANY) to celebrate!
Fortunately, our good friend John Shamash had already organized just such a celebration, including the requisite beer, without even realizing the NEED for such a celebration. We spent the first evening having Dinner with John and his delightful partner Suzanne. Wait, maybe that didn't come out right – John is delightful, too! Anyway, they cooked dinner, we had beer, and then enjoyed a campfire in their backyard.
The next day, John took us for a drive around the countryside, which is drop dead gorgeous not even considering the fall colours. The mountains in the area are where the Skiing events for the Montreal Winter Olympics were conducted, and the town of Ste Adele itself is as picturesque as any you might have seen pictures of in the Alps!!
And, once the touring was done, John disclosed that there was an open-air Microbrewery festival within an easy walk from their house!!! About 2 dozen options for libations on a beautiful fall day!!!
As we were getting ready to leave Montreal for Upstate NY, the train sort of came off the tracks a bit. Our intention had been to meet Peggy and Rick (folks we met in Alaska) at Peggy's sister's farm in NY. Having averted our own mechanical disaster, we learned the Rick's RV was broken, and they were awaiting a part. Then, My Dad's health took a bit of a turn… he's 93, and suddenly was hospitalized. It was not clear what the issues were, but we decided we needed to make a beeline for Minneapolis.
RV WHERE YET is not speedy, as our frequent reader(s) know(s), but we made it back in a few days. Including a quick overnight at our new "official" address in Chicago!!!
We spent almost a month in Minneapolis, during which time Dad exited the hospital and entered Hospice care. Much to be organized with regard to his affairs and wishes, and Dad was an active participant in all of the planning.
It was fun, moving and maybe a little weird to read and help dad with drafts of his own obituary…He wisely chose to take on this task, perhaps not trusting what others might say?!
SPOILER ALERT: As of Jan 5, Dad has "Graduated" out of hospice care, once again beating the odds after being counted out! This time, tho, a little harder on his friends and family, but I suppose we should not have been surprised! He's still 93, and he still has some underlying health issues, but he is home, able to again interact with folks about big-picture urban renewal challenges. You can't be in Hospice care if you cannot demonstrate that your health is declining – and Dad's in fact had improved since the hospitalization.
But, while we WERE there, and before that outcome was to reveal itself, we were pretty concerned. Inasmuch as the whole family had come home, we decided to have Thanksgiving Dinner in October. We booked the Event room at dad's building (which happens to be 3 doors down from his apartment) and had all the usual dishes that everyone — especially Dad – loves and looks forward to.
After that dinner, and looking at the weather forecast, we had a discussion with Dad that went something like this:
Me: Its starting to get cold outside, Dad…
Me: we gotta go, Dad – we can't be here in winter
Me: We can keep in touch every day – you have Facetime, etc…
Dad: Twice a week is quite enuf! 😉
So, we did leave, and we speak regularily (way more than twice a week). Often it is about Medicare, Medications, Upcoming Nurse visits, etc. Usually it is also about our football bet (Bears v. Vikings). Dad starts most conversations wondering when he is gonna get his Prime Rib Dinner from Manny's. And, Dad likes to discuss the visionary meetings he is having with all sorts of civic leaders – about how his legacy can continue to impact Minneapolis for the better…even when (or, should I say "if") he IS gone. As mentioned above, Dad is back (having never actually left!).
Our destination was Elephant Butte, New Mexico, where our potential new home resides, and we went more or less directly there, with a few stops along the way.
First was in Vian, Oklahoma, which happens to be pretty much on the way North/South and East/West. There we stayed a night with the Grays, Lynn and Dave, at their ranch. Then we stopped in Oklahoma City to check in on Chet and his sisters. Chet had engaged a guest apartment for visitors (such as his parents!) and there was IKEA Furniture to be assembled. Not that Claire and Alex couldn't do this, but it was on the way, so we thought we would stop and help. And, there was tech to organize, too! TVs, Internet connectivity, etc.
For our trouble, Claire made her famous cookies, and we took a BUNCH of them for the road!
AND, we got to catch a couple OKC Thunder Games, including the Home Opener, which was fun – they treat family (even strange Uncles) like royalty!!
In the category of "You cannot make this sh*t up, tho, the Star Spangled Banner was presented by a group called the "Sooner Bassooners." Pretty sure that is the largest concentration of Bassoons ever assembled!! And the crowd was really in to the event!
I have to mention one of the coolest things EVER, noted at the Paycom Arena! During the Opening Montage and AV Extravaganza, the Thunder present ACTUAL LIGHTNING BOLTS emanating from sculptures of their logo. I know its just a Van deGraff Generator, and it's just static electricity. And quite possibly no one else in the whole crowd even noticed. There is a reason I am known as the "funny" uncle!
We did finally make it to Elephant Butte, where we were scheduled to test drive the new Bus and consummate (or not) the deal. That short sentence does not do justice to the whole process…but you will have to read about THAT in the next post!!