First, I guess I am on a roll…please indulge me for ONE MORE Personal post..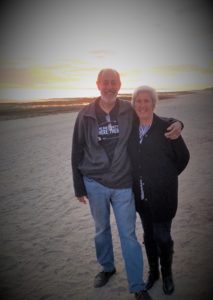 HAPPY ANNIVERSARY to my bride, partner-in-crime, conscience, dance-lead, muse, Secretary of the Treasury, main-squeeze (and alternate squeeze). I am speaking more about our lives together (28 years, now on February 23rd), but also this traveling-thing we are doing at present. Wherever we go and whatever we do, Liz absorbs at least half the blame without complaining (much), and is surely responsible for all the graciousness and hospitality people show us everywhere we go.
I mean, would YOU invite ME to park a 40-year-old, 28,000lb piece of American Manufacturing Prowess in your driveway if Liz wasn't there? I THINK NOT!
The sentiment is simple and complete all by itself, but as with most everything we do, the surrounding events make the story MUCH more complicated. And therefore, more fun and more memorable!
"Wait, What? I forgot. Again!"
…sez Liz. Every Year.
First of all, contrary to the stories you USUALLY hear about Guys and (Forgetting) Anniversaries, it is LIZ that can NOT remember the actual date of our nuptials. Never has been able to. The good aspect of this is that I can surprise her EVERY YEAR on the date. By just saying "HAPPY ANNIVERSARY, dear!"
Of course, this is not only about crappy memory, cuz mine is crappy-er or at least Crappy-equal. No, Liz has HELP mis-remembering. Every year, for reasons known only to her, my sister Sarah congratulates us – on the WRONG DATE. She invariably sends her missive on the 21st of February. This at least alerts Liz to the impending-ness of the event, which she has completely forgotten; AGAIN. 28 times and counting. And forgot again by the 23rd.
Sarah is the same sister that put a "reminder" in my calendar for HER Birthday (November 10) IN PERPETUITY. "Happy Birthday Sarha!" [SIC]. This reminder has survived in my calendar through 6 computers, and 4 email systems. At one point, the reminder was coming up 3 times – perhaps because of conversion from one mail system to another causing a doubling-up? I don't know, I could ask my tech guy, but he retired. (And, he did the conversion, anyway, so he might take the question as an accusation of incompetance or request for a refund.).
In the meantime, I have help REMEMBERING!
I don't know why everyone is mad at Facebook these days – this is a VERY important function it is performing – reminding me of Steve's Birthday, Paczki Day and our anniversary!
It seems that our anniversary coincides with the birthday of a former partner (business, not emotional or social) of mine – Steve Sawatski. He would bring Paczkis (Polish Jelly Donuts) to the office every year on his birthday, which happens to be our Anniversary. YUMMY Polish Paczkis. And Steve and I were ALWAYS the earliest in the office, so we got to share one (or two. Or maybe seven) in celebration of our events before the rest of the minions arrived. So that made February 23rd VERY MEMORABLE for me! And, even though Steve no longer brings me Paczkis, FACEBOOK reminds me annually that it is his birthday (and therefore, our anniversary). And, dammit, he SHOULD be bringing them.
Every year I send him an address to which they can be shipped…though he has yet to ship any. As Jews in diaspora say – next year in Vidalia, LA. Well they don't say that exactly…
So, our 28th anniversary was celebrated this year in Vidalia, Louisiana and its sister city across the river, Natchez, Mississippi. There was a Bluebird rally there called "Lovebirds on the Mississippi." Seemed appropriate. One of our dear Bluebirdbrain friends whom we met this summer and have seen at many rallies since, Richard Ramsey, INSISTED on buying us dinner on our anniversary. (Probably Sue insisted and Richard was merely carrying out her Instructions – they have been married over 50 years and that would be why!). He did not disclose this to me until we were standing together at the counter in a local restaurant called "The Butt Hut."
Now, an establishment with THAT name COULD offer all sorts of imagined services, but in fact was "just" a Barbeque place. Very local and unpretentious.
Laughter ensued, followed by Barbeque
We had asked Richard and Sue to join us for dinner so we could catch up; and Richard and I had placed our respective orders at the counter for ourselves and wives when Richard insists on paying. I argued, of course. Vehemently. As in "Why the hell would you buy us dinner?" At some point, we are holding up the line and getting no closer to deciding who was going to pay what to whom. The lady at the counter impatiently (I thought) said, "How long have you two been married (she had heard it was "our" anniversary throughout the argument)?" "You sound JUST like a old married couple!"
Then she and everyone around us in line smiled. Richard was mortified!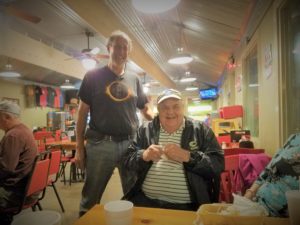 Laughter ensued, followed by Barbeque, which Richard, in fact, bought. I only relented after he reminded me Liz and I had recently bought breakfast for him at Waffle House. Though we had agreed at the time that Ruth's Chris was to be his payback, He had realized and lept at the opportunity for a 2-fer: CHEAP Payback (Richard's part of the 2-fer) PLUS celebrating our anniversary (Sue's part)! I guess the Butt Hut was perfectly and budgetarily appropriate.
The rally itself was a TOTAL BLAST. It coincided with Mardi Gras and was coordinated to include all sorts of celebrations related to that event.

Fat Tuesday!
The hosts, Mark and Lori and Jerry and Natalie, put together an awesome spectacle of food, fun and frivolity. Not only did we have primo-parade viewing, but speeches from BOTH the mayor of Vidalia, LA AND Natchez, Ms, all manner of local cuisine, Winery and Brewery Visits, top-end-restaurants, etc. etc. etc.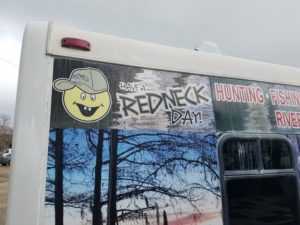 There was even a "Redneck Adventure" on the schedule. No one would (or could) say beforehand what that was going to be. But when our friends the Florer's, who almost got us killed on a Jeep Adventure in the Arizona Desert pulled in to the rally – and suggested we should go on this adventure with them…"It'll be fun…a THREE HOUR TOUR…" we could not (but should have) resist(ed).
As it turned out, the Redneck Tour was EXACTLY the kind of quirky stuff that we love when it happens to us. Stuff we'd seek out; stuff you CANNOT MAKE UP.
First of all, this was NOT just a random Redneck Adventure. Our host was JimBob Allgood – of the TV Show "Redneck Adventures!" IN THE FLESH!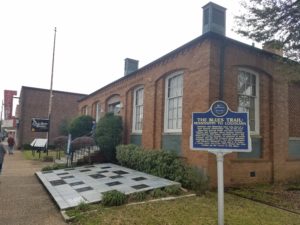 We did all sorts of Redneck things. There was the Jerry Lee Lewis Blues Museum in Farraday. Then we went looking for Alligators (and found a few). Along the way, we had to help another Redneck get his Pickup Truck unstuck from the mud.
Actually, the "real" Rednecks were suspicious of the guy's Redneck Cred since he had a white shirt, a Tie, a TWO-WHEEL-DRIVE Pickup and made a QUICK getaway after being freed. There was some speculation that he was right out of a "Farmersonly.com" commercial (the guy that gets dumped for the REAL Redneck). I don't think that's fair…I think he thought ours was a PRISON BUS, and the inmates were escaping (to help him, or not — how could he know?).
The last Redneck Adventure arose because of the (ample) volume of Redneck Beverages served on the Prison Bus. At some point, as we were driving down the levee road looking for alligators, a couple Bluebirdbrains asked for access to a restroom. For the guys, Jimbob said there was a restroom on the back of the bus. We were puzzled. Had to think about that for a moment, but a moment later there were 3 guys peeing on the back of the bus. For the ladies there was the brick wall and gate to a rich redneck's (apparently NOT a contradiction) hunting camp. I stood guard to keep the alligators away.
Lest anyone should think the South has a monopoly on Redneck…
Pay attention to the video adjacent showing IOWA REDNECK in FULL BLOOM! This has ALL the ingredients of REDNECK, including fried food and Redneck Engineering, which is creative if completely unintended use of tools. Here we see Steve Florer using cordless hand drill and a peeler/slicer to produce PERFECT curly cue potatoes for frying.
JimBob would be PROUD — might even adopt Steve to help with their Bayou engineering!
Most every day would include a trip to a local BBQ joint for lunch. At some point the conversation amongst the gathered clots of Bluebirdbrains would come around to, "My t-shirt is clean…" which means "I have not dripped BBQ sauce on it yet." Which means, "It's time for Lunch!" Something that could and should be easily rectified.
To be clear, his coach, not Randy.
And of course, BLUE BIRD TECH TALK. It isn't an official rally until someone's engine compartment is open and/or their Aquahot heater is belching white smoke. On the latter, it was Randy Dupree's who was doing the belching.
He explained that he had just changed the nozzles in his Aquahot and it needed to burn off all the junk in there. I know all about Aquahots, now, after fixing one in Houston. NOT. I know about Circulator pumps and "O"-rings and skinned knuckles. Mostly I know I am glad we don't have one!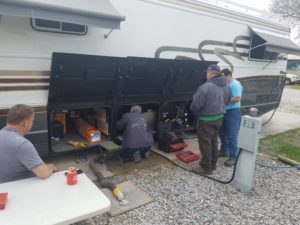 Now, mind you, Randy is one of the Bluebird GURUS. He is well known as the guy who knows EVERYTHING. Randy's wife Carole asked if their Aquahot was going to stop smoking soon, because the folks in the next RV spot were gasping for air. First, Randy said he was fogging for mosquitos… Carol was NOT impressed.
Then Randy said, "Pretty soon, dear." Which we all interpreted to mean "sometime today." Randy, by his own admission gets moving every day at "the crack of noon," so "hurry up" is not in his vocabulary. Anyway, I said, those folks (the ones whose coach was nearly invisible in the fog) were foolish to park downwind of Randy – they should have known this could happen! (But, they had no mosquitos – gotta always look at the bright side!).
Carol was STILL not impressed.
We are SO grateful for the Bluebird Community…making us welcome and helping us enjoy ourselves all over the country! Not that we wouldn't have fun anyway, but having fun with friends, new and old, is just the icing on a very rich cake!!!
The whole time was NOT a party, tho. Some of the time was spent just sitting by RV WHERE YET watching river traffic go by. The river is VERY HIGH and expected to flood over the banks, but not for the week we are here. This means that the barges that go up and down the river are right at eye level above the levee in an almost continuous procession. It is truly amazing how much commerce flows by.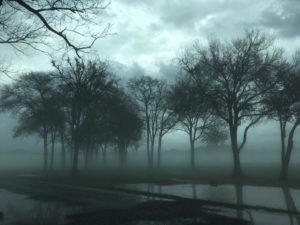 The weather was not always great during our stay in Vidalia – it rained a LOT, and was alternately warm and cold, foggy (and not just from Randy's Aquahot) and clear.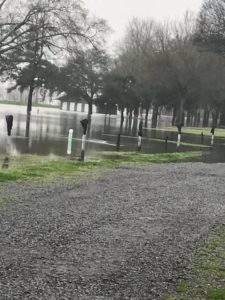 The Mississippi Continued to rise throughout our stay… though the crest was forecast for after our departure (and was NOT expected to reach our spot), we were glad to be leaving while the RV Park was only 1/2 under water!
But in a weird way, the whole package was pretty magical. There was even a Blues Joint where we took in some local music and a couple local brews.
From Vidalia, our next stop(s) were predicated by weather.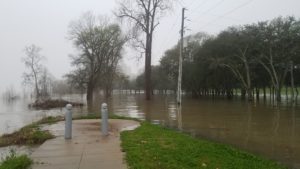 Our thinking was to head north a bit – to Bentonville Arkansas and Vian, Oklahoma. Friends await with promises of beer and camaraderie. However, it is clearly understood that a loop in a northerly direction very much depends on the weather.

March can be VERY unpredictable. Anything from sunny and 65F to 32F and Black Ice to 20F and full-on blizzard conditions. The latter two would have us skipping the northerly detour ….
We watched the forecast, and it was abysmal — closer to the latter than the former…
TBD.