Disaster nearly struck as we were entering the outskirts of Phoenix.
This was about to end VERY badly.
Driving along a major 3-lane road; not a highway (stoplights) but a major thoroughfare. At one intersection, the driver of a small car in front of me decided he needed to STOP for the just-yellow light. Seriously, just yellow. You (that is the global "you") would not even have thought about stopping. I was behind him (he had just changed into my lane as we approached the light) and I did not even consider needing to stop. Yet, he slammed on his brakes…forcing me to do the same. However, we are MUCH BIGGER and WAY-HEAVIER than him, now stopped directly in our path.
With no other choice, and no time to consider other choices anyway, I guided the bus gingerly (as gingerly as 28,000 lbs of braking-metal can be guided) into the left lane (we had been in the center lane). Fortunately, the guy there was NOT on his cell phone and saw me encroaching on him. He was able to move into the left turn lane, which was fortunately empty. End Result: No sheet metal bent at all! He waved a special finger at me and honked furiously. Arizona being a no-permit-required-open carry state, I was worried about what would happen next.
Meanwhile, the idiot that had changed lanes and then slammed his car to a stop in front of us was ignorant of how close he had come to being launched into space by impact from the rear. We ultimately stopped in the lane next to him, about in-line with the driver seat. I opened the bus window, and apologized to the guy in the left-turn lane. I pointed to the car in front of me, trying to remember a little Spanish, which failed me under the circumstances. Regardless, the guy immediately appreciated the situation and went from mad to smiling in 1 second. Even gave me a thumbs-up to replace the previous finger. I never saw if he was carrying.
He politely motioned that he would like to go straight, not turn left despite now being in the left turn lane…, and would I let him in front of me? ¡¡CLARO QUE SÍ!! ¡Si Quieres eso, Claro que sí! I managed this in Spanish since my life was done passing in front of my eyes.
I learned from this mortality-moment a few things:
— We need significant stopping distance. I knew this. I normally (religiously) keep this in mind, but it can be hard to ensure in city traffic. Esp. when someone cuts into our space.
— Most people have their eye on us when they are in close proximity…which is no doubt why my friend on the left was able to avoid our lane-excursion as I was working hard to avoid a rear-end collision.
— It is hard for people to stay mad at transgressions made by drivers of a bus like ours. Which is really good in an age of armed-road-rage.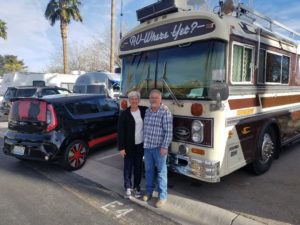 The rest of our time in Vegas/Phoenix was far less – and more – memorable.
Liz got a chance to visit with a whole gaggle of cousins and high-school-era friends who have settled out in this direction. First was Ricky, who prefers "Rick" for family and "Rich" for business but still calls Liz "Betty." Great visit and dinner at our favorite Las Vegas Restaurant – the coffee shop at the third-tier Longhorn Casino.
Then there was Lisa Chulew, who went to grade school and high school with Liz and now lives in the Sedona Area and visited the bus in Mesa.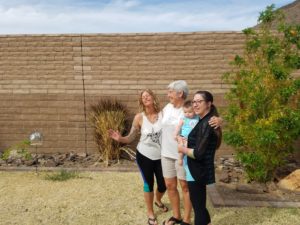 Next, cousin Lisa (Rick's sister), who lives near Phoenix. She lives in a far-north-western suburb of Phoenix…quite a long drive but giving us a chance to see the greater metropolitan area. As we sat and conversed, Liz asked Lisa about her memories of their childhood home in Twin Lakes. Lisa IMMEDIATELY said "The smell of the Basement!" Now, many might misunderstand this, but I couldn't help but smile. The basement smelled like Pickle Spices!!! And I can completely understand how this was a prominent and happy memory.
We also managed some time with Liz's niece, Ellen, now a resident of Chandler, Az. and working for Phoenix's professional ballet company. Ellen's partner, Andrew, is an ACTUAL rocket scientist!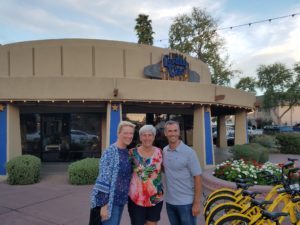 Finally, we caught up with friends Linda and Russ Wilson, who last summer offered us dinner, conversation and an overnight spot on the shoulder outside their home near Vancouver.
They pleasantly proved that at least someone is reading our blog!
You may recall (since you, apparently, are also reading!), I had mentioned herein that friends might consider joining us somewhere on the road, if orbits could be caused to align. Linda and Russ examined our proposed summer path and identified a clear instance of concurrent spatial-occupation — they were planning a vacation in Scottsdale exactly when we were planning on passing thru! They contacted US to highlight the opportunity – no, the historical imperative not to be wasted — to share a meal and a laugh (or multiple of both).
Water features.
In. The. Desert
.
Much like (massively-over) AirCon in Las Vegas;
HOW TOTALLY AMERICAN…why?
Because we CAN!
Since they were staying at the fabulous Westin Kierland resort and we were staying in an RV Park which was more of an RV Parking Lot (though a reasonably nice one…), we all agreed it would be best that we head up their way and hang at the resort. With our swimwear, since the resort had water features galore — pools, spas, wave tanks, a lazy river, etc.
USA. Land of Abundance. Abundant Frozen Lime Concentrate and Abundant Frozen Orange Concentrate for the Margaritas! Stuff that we know now is uniquely American.
AND we had the clown car, making it way easier for us to get there than for them to get to us. Further dialog revealed that they were actually staying in a Villa, and this villa had a blender! So, we acquired the necessary ingredients for Margaritas-ala-RV (taught to us by the Mitchells in Casper, Wyoming last summer) to fuel our orbital overlap.
We never did access the various water features since it was brutally cold per Linda (68 degrees). Linda, BTW, is a MAJOR distance swimmer, and has done such madness as swimming across SF Bay under the Golden Gate Bridge and from Alcatraz to SF and across Lake Tahoe. So I was having a little trouble reconciling that with her assessment of the "cold" weather…
But no worries; Russ bbq'd Kabobs and together with the margaritas, chips, salsa and guac, there was ample sustenance and fuel. Linda's sister Lisa was there for another perspective on "stuff" and eventually, Russ and Linda's son Bryce popped in…he was spending the entire week at the Apple Store, taking class upon class; from morning until night. Apple-proximity was Nirvana for him…the Store was an easy walk…no 'rents required.
There was some discussion among the 'rents and the other adults in the room about whether Apple's "culture" is intentionally addictive. Is it harmless infatuation or sinister near-opioid madness? Being kid-less, and android people, we can't really tell which; but we think the latter – why else would people stand in line in all sorts of weather to be the first to buy (for megabucks) the tiny-incrementally-improved-new-iPhone before anyone else?
After an afternoon/evening of conversation, we adjourned, agreeing that we should do this again "sometime." This could have been a nebulous, polite (there were Canadians involved!) future wish, neither requiring nor assuring action or commitment. Not this time…HOW ABOUT the day after tomorrow? We met in "Old Town Scottsdale" (which is kinda an oxymoron, actually). Thursday nights some of the art galleries stay open late and there is live music.
The RV park in Mesa needs further description. It is a small little park (25 spots) tucked in between several other parks; each of which had space for HUNDREDS of RVs. My guess is that there were spots within a mile for 5,000 RVs. All of those big, fancy parks were completely full of snowbirds, which constitute the majority of Mesa residents. It seemed there was NO space available.
Excellent RV facilities…which we define as level, good WiFi and inexpensive onsite Laundry
Worried we'd have NO PLACE, I called one last option… Tiffany RV Park. The manager actually spent a little time (the other parks couldn't be bothered) to consider that a couple of his snowbirds were planning to leave, so he just MIGHT have a space available for us. He checked, and wrote back to confirm that he could accommodate RV Where Yet. The park was unassuming, but in a great location and with excellent facilities, which we define as level, good WiFi and inexpensive onsite Laundry. We carry everything else we need and we were planning to spend our time seeing friends and cousins.
Tiffany was PERFECT. They even gave us the weekly rate, which made it inexpensive, as well!
After a week in Mesa, our next stop is Tucson, and then a rally near Austin, Tx. Several stops and travel adventure, as always, are as yet unknown, but surely expected!