After Shipshewana we had about ten days available to us before our next "planned" destination. THAT would be Niagara on the Lake, where we are to meet friends Mike and Fran McDowell.
We are a little worried that before then, the USA may be at war with Canada.
Friend Steve Aidelbaum from Toronto said it was a valid concern; that we could possibly become POWs if we came across as planned. Don't worry, he said. It would be against the Geneva Convention (well, at least the Toronto Version of this) to withhold beer. Phew!.
We decided to head up towards Detroit (never been there) and prepare for an ultimate border crossing at Port Huron/Sarnia. With a week or so to go, we could monitor the status of the relations between countries secure in the knowledge that we would not be thirsty in any case.
Detroit has the usual problem found in cities…no close-in place to park the bus for a few days. Why are there no RV spots in cities? If I weren't retired, I might consider this a business opportunity… We did find a spot at the Wayne County Fairground, about 30 miles from downtown Detroit and even closer to Ann Arbor. This served as a good base of operation for a few days of appreciation.
Our first stop in the Detroit area was the Henry Ford Museum. There we spent a full day, including a tour of the Rouge Truck Assembly Line. The latter was really interesting – it helps us NOT take for granted the masterful engineering that goes into execution of products we DO take for granted.
There were a couple of movies that provided perspective on Henry Ford's impact on the auto industry and indeed on manufacturing of all kinds. As with the Walmart Museum, the presentation was one-sided, but it was a little more balanced than the Walton Shrine. There was discussion of Ford's tussle with labor unions, as well as disclosure that Ford was late to the table of "beautification" of his products, focusing more on engineering and manufacturing efficiency than looks, color, etc. He eventually did realize that people wanted cars that not only worked well, but looked good. In fact, The Ford Motor Company we know today was Henry's third crack at it…the first two failed and had he been a little slower to introduce "style," perhaps the third would have as well?!
The factory also implements quite a bit of "Green" technology, which is fully discussed during the tour. Everything from the world's largest Green Roof to the technology that allows heating and powering the paint shop by fuel cells powered by the shops own fumes.
The museum itself is a bit of a hodge-podge. There is a GREAT presentation of vintage and specialized automobiles, as you would imagine. But also, agricultural equipment, airplanes, tool-making machines, steam engines (some REALLY old), textile manufacturing technology, Locomotives and…furniture! Even a VERY early Bluebird! They call it "The Henry Ford Museum of Innovation," but I think that is just a cover for a guy who had eccentric collecting habits, a BIG garage and a lot of money! At least his collection is on display for public enjoyment and enrichment.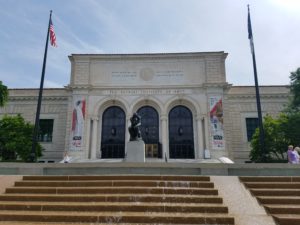 The next day we visited the Detroit Institute of the Arts…an AWESOME museum. We had been encouraged to see the Diego Rivera Murals, which were even more impressive than expected. I liked that you could get right up close…so close that you could see the underlying pencil-strokes Rivera used to outline what was to come, and the improvements he made sort of on-the-fly…where the mural diverged from the pencil-strokes beneath. You could almost "feel" the hand of the artist in a way not possible in most museums.
We also managed to see a couple transient exhibits at DIA. One was a Star Wars Costumes exhibit, where the actual costumes were presented, along with prototypes and drawings that reflect the evolution from imagination to execution. This was WAY MORE INTERESTING than I would have expected. The other exhibit was on BASEBALL – in part a 50-year celebration of the 1968 Detroit Tigers World Series victory; but also lot's of artifacts, sculptures, etc. Most fascinating was a HUGE collection of baseball cards from the beginning.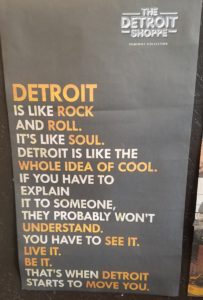 Part of the fun of visiting a new city comes when you begin to "feel" the spirit of the place. Friend and Detroit Native Tim Doyle made a BUNCH of suggestions, which we used as a framework for our time here. Detroit is a melting pot for sure; which has been through some dire economic times. One sign I saw on a fairly ramshackle butcher shop sort of encapsulates all of that: "Halal Amish Meats." Clearly trying hard; hoping to cater to a mixed clientele and/or anyone who might stop by.
There is a lot of empty commercial space, but there seems to be a cautiously optimistic vibe, encouraged by a good mix of new and traditional industries and new and traditional people. New Sports arenas downtown for Football, Baseball and Hockey (I wish I had seen a Hawks/Wings game in the old Joe, but alas…..)
Still a lot of empty space, though…and mid-day in the business district was quite uncrowded — a downtown strangely quiet…just not a lot going on. Somone in a shop told us how much more life there was than "before," but of course we have not been here before, so we have no basis for comparison. He said,
"You should have been here 10 years ago…correction, you WOULDN'T have been here 10 years ago…"
We also visited Ann Arbor, home to the University of Michigan. In contrast to Detroit, and even though between semesters, the campus and surrounding area were alive. We walked through the campus, and then stopped for lunch at a brew pub (The Jolly Pumpkin on Main Street) and had some of their brews and an excellent samich. They focus on Sour Ales, which I thot delicious; Liz not so much. But we agreed the Burger was EXCELLENT.
All of this confirmed for us something we have been thinking: our long-term plans, should we decide to stop the Wandering Lifestyle, could well end us up in a place like Ann Arbor. Perhaps a southern Ann Arbor; a little more affordable and with a little less winter.
While in Detroit, I discovered and booked an RV place at a Township Park in Port Huron, Mi. This is directly across the road from the Blue Water Bridge to Canada, allowing us to monitor Twitter, find a lull in the shitstorm going on there and quickly execute our exit/entrance across that bridge.
Making sure our fridge is empty of beer and green peppers for the crossing (the latter was confiscated our last time across the border), we are holding Mr. Aidelbaum to his commitment that Beer would be available to us once across.