Thought for the Day (any day, really!) CLICK HERE
After Minneapolis (and Mom's Move), we needed a VACATION. We have been reminded, if one is not "working" then technically it is LIFE, not a vacation. I would argue that helping a parent relocate IS work, and a vacation is just what was needed!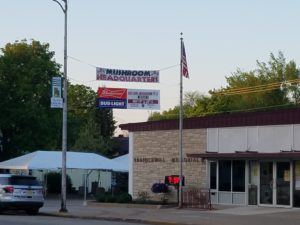 So, we chose to spend a few days decompressing in Muscoda, Wi. OK, it's not the Caribbean. Or the Riviera (Maya or otherwise). But it IS a place where relaxation can be executed with fervor. And, the weekend just happened to be the MUSCODA MOREL MUSHROOM FEST!!! How could we NOT stop by?
The weekend turned out to be a series of "Firsts"
(and probably "Onlys") for us.
First thing I should point out: It is pronounced ""Mus-kah-Day" and if you say otherwise, it will be met with a blank stare, and then a smile ("Oh, you're not from around here, dear…").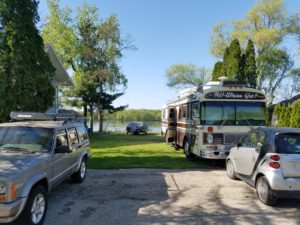 Regardless of pronunciation, Muscoda lies almost directly on the route between Minneapolis and Chicago, and friends Molly and Gary Shilling (and their GREAT dog, Anne) whom we have met a couple times at various rallies, said to stop by!
In fact they said more than that…they said they had a parking spot right on the Wisconsin River with 50A electic hookup!
The parking spot was absolutely all it was promised to be. One could sit by the bus and watch the river roll by. With an occasional Hovercraft and Bald Eagle to pique the interest.
The next first? Gary is an EMT. To be clear, he is a retired Plumbing Contractor, but decided to take the EMT class and then "work" for the Muscoda Volunteer EMS. That sounds like a second career to me, but since he is not getting paid, I suppose he is still "Retired." In any case, he clearly enjoys the "action" which there is otherwise little of in Muscoda. Anyway, the "First" was a tour of the Ambulances without any sort of accident or injury first! In fact, entering the back under my own power!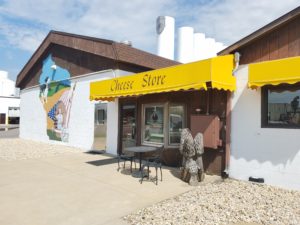 The next first? Hunting Morels. We found none. Others found some, but the yield was low this year, apparently. Closest I came to a Morel was a flea-market vendor (yes, there was a flea market – what festival is complete without one) who sold effigies executed out of wood and stone.
And speaking of Effigies, the local area also has some exceptional archaeological and historical sites to visit, including a host of "Effigy Mounds" built by Native Americans at around 800-1,000 A.D. Effigy Mounds are built in the shape of things. Archaeologists argue about what those "things" are.
One, for example, is either a bird, a woman giving birth to the sun at the equinox or a stalk of corn. Easy to confuse those images, I am sure you will agree!
There was also a lecture on Indigenous Agricultural methods…raised bed farming; the high-tech and sophisticated nature of which is astounding! When Europeans arrived, they felt they urgently needed to teach the savages "Modern" agriculture and the result was a less diverse foodstock, poorly suited strains of crops for the climate, and endemic nutritional diseases (diabetes, gout, obesity, etc.) where none had been present before. Now THAT's PROGRESS!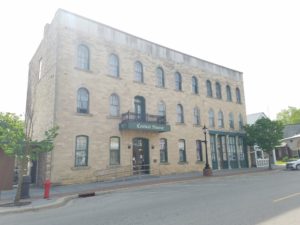 Lots of other excitement. A Steak Dinner at the fire station. A Chinese Buffet in nearby Richland Center. Dozens of Garage Sales, all timed to take advantage of the influx of mushroom-tourists. We split up for the latter…Gary was looking for the particular sales with "Guy Stuff" like tools, canoes, fishing gear, etc.
Fireworks in the park just across from the Shillings. A Nature walk through dense plumes of mosquitos. The Hotel where the Gideon Bible Legend was born.
Even a visit to Gary's Shed! He has a metal building on a lot outside of town where he stores his bus. Gary seems to have an affinity for Canoes…there were several in the Shed. And notwithstanding this, he nearly bought another at a garage sale… "I don't need another canoe, but Its such a good deal!". Not quite sure why Gary has more than a few canoes, but who needs a "why" when one has a shed?
This actually got me to thinking – wouldn't it be great to have a place nearby to park the bus (and maybe work on it, since I could collect/have tools for this – if we had a shed…). Problem is, nearby WHERE? Unaffordable in Chicago, most likely. And, anyway, Liz, who is ever the grounded one reminded me: "We just downsized, it is not time yet to upsize! " (She used words a bit more emphatic than these).
And, the final "First" for the weekend. We were invited to participate in the "Muscoda Mushroom Fest Parade" down main street. WOW!!!! And it gets better. The U of Wisconsin Marching Band (well, parts thereof) were also there with their mascot, Bucky the Badger, alternating between just ahead of us and just behind. Personally, I would have chosen to stay ahead of us vs. eating our diesel smoke behind, but the "organizer" decided they were better behind…
#hangingwithbucky, who did a polka with the tuba player when we played "Roll out the Barrel" on the bus horn! You cannot make this stuff up!!!
And "Organizer" might be a little formal for the operation of this parade. The parade consisted of tractors, trucks, tractors towing trailers, another Smart Car (advertising a local business), etc. Smart should use Muscoda in their advertising – two Smart cars in a community of 2,000 is a very high rate, per capita. Even if neither were actually residents. FAKE NEWS.
Action-Packed Parade Video
And to be clear, the parade was going down main street and so were we – on the way out of town. So even if we hadn't been "invited" to participate, we would have brought up the rear as we exited Muscoda. Nevertheless, RV WHERE YET did indeed enrich the procession (we played our horn – "Roll Out The Barrel" — and threw candy out the window – I expect our formal invitation to next year's fest soon!).