Weather still sucks as we left Palm Desert, but begins to improve as we get a little north of Los Angeles. We decided to stop for the night at Carpinteria State Beach between Ventura and Santa Barbara. WHAT AN AWESOME PLACE. Again, hard against the ocean beach. Although with the pounding surf and cold weather, we were not too tempted to stick our toes in. But sitting at a picnic table watching the sun set was spectacular. Seals, Porpoises, Dolphins just off the beach. Our neighbors here tell us it is usually hard to get a spot, but the bad weather has scared people off. Lucky us!
The little town of Carpinteria was a fun place for a bike ride (or two). They had a CVS Pharmacy, so Liz could fill her prescription. They even had a Craft Brewery. Two, actually, but the one that looked more "Brew" oriented (Taproom more than restaurant) happened to be closed on Tuesday – timing is everything.
Liz was a good sport, though, joining me for a pint at Rincon, the other one. And I bought a few for the road.
While in Carpinteria, we continue to explore the various features of our new home. This time, we pulled out the blender and experim
ented with the NUTONE WORKCENTRE that is built in to the kitchen counter. The Workcentre also has a power-can opener attachment, but up until now we hadn't bothered…using instead the hand-model. It works PERFECTLY after all these years. We made smoothies with fresh Strawberries. Maybe Daiquiris if it gets a little warmer?
CSB was such a great place we decided to extend our stay by one night. Unfortunately, our spot was reserved and the interlopers had reserved 2 adjacent spots so the park staff could not switch them and leave us alone. So we had to move. 20' to the west. Which is a little bit of a process since we have to unhook everything, start and air up the bus, move 20 ft, re-level, rehook all hoses and wires. WELL WORTH IT, for another night.
Tuesday Morning, I went to the beach to have my coffee. There, an older fella motioned me over. "THANK YOU" he said. "For what?" I asked. He continued, "I like to sketch, and the park is pretty empty…I had run out of subject matter." (When he said this, I could not help but think, but didn't say, "With the beach, surf, ocean, porpoises, mountains…you have nothing to sketch?") "Then "RV WHERE YET?" pulled in!!!"
He was doing a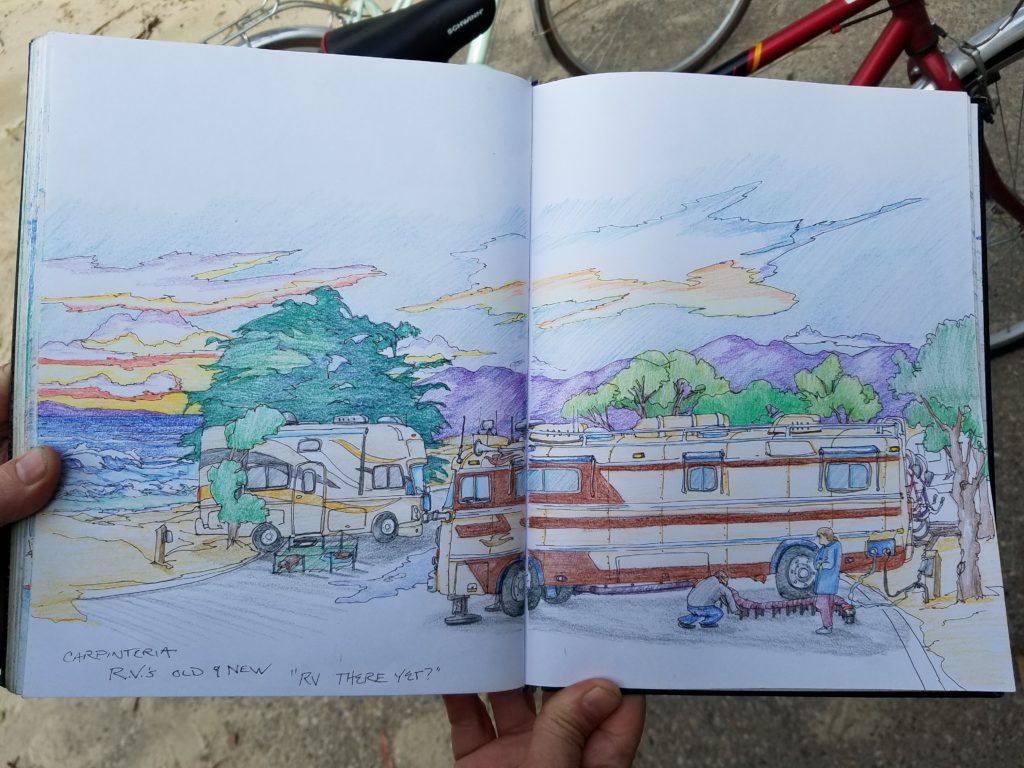 SPECTACULARILY detailed drawing of mainly our bus, but he managed to capture Liz and I as we were setting up…I am intensely focused on the sewer hose and Liz is supervising. He claimed his subject matter was the contrast between our ride and a newer one a few spaces down. You could tell this fella (I later learned his name was Bob) was much more impressed with the OLD than the NEW. I asked if I could take a Pic of his Pic when he was done. He said "sure, but at a cost." I had visions of this old fella painting-to-eat. But he said, "I would like to have a tour inside…" Which we gladly offered. When he met Liz, he said he would update the drawing to reflect he red hair!
Leaving Carpinteria and heading North. Our plan was to take the old Highway 1 all the way along the coast, but there is still at least one spot blocked by a mudslide. As an alternate, our friend Phyllis suggested there are some nice Wineries near Paso Robles. Phyllis said, "Good wine, beautiful settings and NOT NAPA prices." Sounded good to Liz. And Liz WAS a good sport at the Tap Room, so it was my turn to be a good sport.
Investigating a little, I found a website called "Harvesthost.com" which offers overnight stays at small family farms and…wait for it…wineries. Including three near Paso Robles. The membership was $44/yr. Less than one night at an RV Place. Once a member, the overnights are free, though you are "encouraged" to patronize the company store after tasting a flite or 2. NO PROBLEM. And no need for a designated driver, since we would be staying in their parking lot!
To select one winery from the three available (yes, I know we could have visited the tasting room at all three, but we could only stay at one!), we polled the friend we were seeing next to see if she preferred White or Red. Hoping her preference could guide ours, unfortunately, she (and now that I think about it, most of our friends!) was not helpful in narrowing the scope. She said: "I prefer red, but I don't remember ever turning down a White." With no help from our friend, we resorted to other, more scientific criteria to select. One of the wineries was owned by a former career minor-league baseball player. DONE. Something for Dan to do while Liz is enjoying a flite or 7. Choice made. I called to make sure they had a space, and we headed there on our way north.
Once we arrived at Rio Seco, We situated the bus overlooking the vineyards. An AWESOME setting. Then we went inside for some tasting…we were immediately welcomed. By George the cat, Monte the dog and the owner…Carol Hinkle. In my lap. All at once. Wait, NOT CAROL. Her husband Tom passed away, but was a scout for several BB teams including the Cubs. Carol showed me his business card. Followed by very generous pours and multiple of a couple. We selected and purchased several. Proving "free" can be somewhat expensive.