Our travels, seemingly random, are not always so. For the last couple weeks we have been pointing RV WHERE YET towards friends in the center. "Center" means pretty much the geographic center of the USA — Northeastern Oklahoma and Northwestern Arkansas. Center does NOT mean necessarily politically…friends can be all over the spectrum, but FRIENDS can talk about it, and we did plenty of that! Anyway, enuf on that.
Our first stop was in Vian, Oklahoma, where Lynn and Dave Gray live on a little over 700 acres of cattle ranch-land. They have welcomed us into their world more than once – actually this is our third visit. And, as I shall disclose in a moment, a MAJOR first in our lives. BUT first, we had to get there and get settled.
Lynn was dancing around like a crazy woman, motioning us towards their trailhead
Last trip, I had set a place-mark on the GPS because last year we flew right by their gate – there is not a "street" address for the navigation equipment and Dave was a few minutes late meeting us there! This year, the placemark brought us right to their "doorstep." Couldn't have missed it this time anyway – Lynn was dancing around like a crazy woman, motioning us towards their trailhead. She opened the gate and allowed us in.
Next came the discussion about how and where to place RV WHERE YET for the weekend. Dave was pretty sure, after the VERY wet winter, that we would sink up to our axles if we pulled off their ranch road onto the adjacent field, where we had parked before. So, instead he proposed we BACK OUT the gate ONTO THE HIGHWAY and then back in, leaving the bus on the gravel ranch road. The Grey's Truck/Car/Jeep-type vehicles (not to mention our's) could navigate off the road around the behemoth parked ON the road with no issues, Dave felt. Since their jeep was parked on the field (and we could still see the bottom of its tires) as we discussed this, I assumed he knew what was up on this.
But first, we had to find a hole in "traffic" on that Rural Route outside the gate for the backup-process. That turned out to be not too hard – I just backed right out, basically. There was one pickup truck and a couple of cars that eventually came over the rise during the maneuver, but they gladly stopped to watch the event happening on the road. I played to musical horn to thank them – "Roll out the Barrel" as a euphemism for the entertainment we were providing as we waited – not much goes on in Vian, Oklahoma it seems!
We got parked, and turned off all the switches so the batteries would remain charged over the weekend. Dave said he could provide us a power cord if we needed it for the batteries…there was a meter by the gate. Apparently, he had planned to put in an electric gate and so had the utility presence. That was 10 years ago; no gate as of yet. It would have required some amateur electrical work and a very long cord, so we instead just turned off all the circuits. I assured Dave I WANTED to do this…since I had rewired the electrical system I was curious how long the batteries would hold a charge with "nothing" running. Turns out about 72 hours. So "nothing" running is obviously still quite a bit, and I have some more work to do, but it IS helpful to understand one's limitations. And one's bus's.
After driving to the house (about 1 mile up the gravel ranch road), we had to take a pause from the planned weekend schedule for Lynn to deliver the necessary proforma Innkeeper Liability Statement and Waiver. Before even showing us to our quarters, she showed us the Tornado Safe Room (AKA The Pantry) and the battery-operated button-lamps placed thoughtfully around the house. I guess this is a little like the Lifeboat Muster Drill on a cruise ship – BEFORE the bar is opened. But, it IS SPRINGTIME in OKLAHOMA, and in fact, there were storms predicted that very evening. I had a very practical question (I thought): "Are there sirens or other warning systems to suggest we should get to the pantry (rumbling stomach does not count)." Lynn said, " Yes, in town, but WE CANNOT HEAR THEM out here!" "If you hear a train coming, you should probably Make Haste to the Pantry!"
Now that all that was sorted out, we turned to the full event schedule for the weekend. Naturally, this included several WONDERFUL MEALS. A Barbeque was planned (serving Grass-fed beef, but not Gray-Ranch-Grass-Fed, apparently). The date of the BBQ had to depend on the weather because Dave's Outdoor Grill (not to mention their house) sits up on a hill with a sweeping view of the surrounding ranchland. And FULLY exposed to the springtime Oklahoma Winds! Oklahoma sits next to Dorothy's home in Kansas and therefore enroute to Oz, and hosted the dust bowl a few years ago. Wind in spring is not something that can be ignored!!!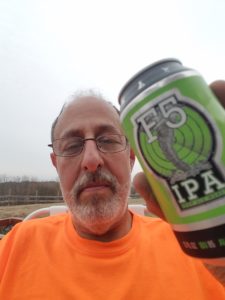 We determined that Sunday looked manageable for that – the lid of the grill could likely be opened then without risk of it or the grillmaster visiting Oz. With this as an anchor for the weekend, we planned a trip to THE BIG SMOKE (Ft. Smith, Arkansas) on Saturday. Lynn had something special in mind for us there. This was an ABSOLUTE FIRST for Liz and I (and, ostensibly for Lynn and Dave). AT least that any of us were willing to admit with the others in the room.
Anything to make visitors feel welcome
We made our first stop in Ft. Smith AT MISS LAURA's BORDELO. Really. It seems that Ft. Smith had an extensive history as a frontier outpost, garrison for troops on the edge of "Indian Territory," protector of the west and base for power projection, etc. So, of course, there were several Houses of Ill Repute. This one has been turned into the FT. SMITH VISITOR CENTER by the Chamber of Commerce and Tourism board!!!! And they offer tours!!! Anything to make visitors feel welcome, I suppose.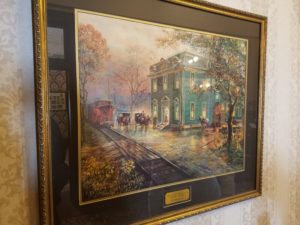 You cannot make this stuff up! As we travel from place to place, we try to visit certain types of local establishments. For example, Breweries. Special restaurants. Burrito Stands. Now we have one more to add to the list? (Liz, at this moment, is giving me a "look" that implies we may not make it to our 29th).
And, how many people have friends who take them to visit Bordelos? Maybe some people, but not ones in OUR social circle! The Grays ARE "special!"
While in Ft. Smith, we also visited … FT. SMITH. And the courtroom, jail and gallows made famous by "Hanging Judge Parker." The National Park Service has preserved this with a very interesting historical exhibit. There were some artifacts, photos and videos about the Hanging Judge, about the complex relationship on the frontier with Native Americans (including the heart-wrenching "Trail of Tears"), the Civil War and more. None of these are as simple as portrayed in the history books (at least the ones I have read).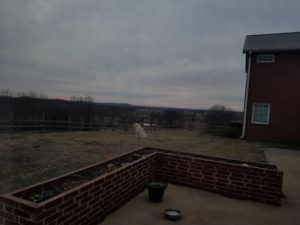 And, for our entertainment and PROTECTION it seems, we had the pleasure each night of hearing Daisy, the Grays' Great Pyrenese working throughout the night to keep us safe from the myriad Coyotes in the area.
Daisy is the absolute sweetest dog you can imagine in "Clark Kent" mode – basically all day every day. A big white (well, mostly white with a bit of mud and manure around the edges) mountain who REALLY wants a belly rub. But when night comes, she takes her "Protector of the Universe and Guardian of the Galaxy" (or at least the Ranch House) role VERY seriously. You can hear the coyotes getting close, but not too close, because off goes Daisy to chase them away.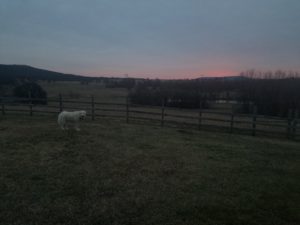 One morning, over coffee, we got to actually WATCH a bit of this (it is too damn dark to see much of anything at night). There was a Coyote off in the distance – a big Male. It was TAUNTING Daisy. It would come in our direction until Daisy would chase it off. As Daisy was walking back up the hill, it would approach again until Daisy would turn and chase. It even had a dead Rabbit – it would come close and toss it up in the air – as if saying "Come and get it, Daisy" much as one might toss a tennis ball for a Labrador. (We assume) sometimes Daisy must actually GET the rabbit – Dave has to periodically dispose of carcasses Daisy brings home from the woods.
At one point, the Coyote was running around a small grove of trees with Daisy in trail – several times. Flash back to all the Wiley Coyote cartoons we saw on TV and something seemed not-right… It was The Coyote being chased, in a role reversal with Daisy (was she the role-reversed roadrunner in the cartoon? I was SO confused!!!!), who was MUCH faster than Daisy so in no danger of actually being caught — it was allowing Daisy to get just close enuf to keep the chase going. This was clearly a game being enjoyed by both, though both eventually tired of the game. Daisy (almost 10 years old, now) virtually collapsed and slept the rest of the morning.
After soaking up all that Vian had to offer FOR THIS TRIP, we prepared to abide by Ben Franklin's edict: Guests and Fish Smell after 3 days (which we've made sort of our "visiting friends mantra"). We prepared RV WHERE YET to exit the ranch.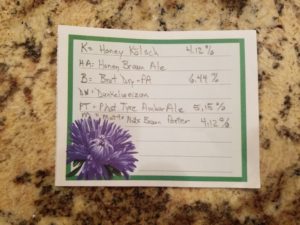 Our next goal was further imposition, er, reconnection with friends; this time Rhonda and Randy Dietz in Bella Vista, Arkansas. We've known them for years through business travel, though to be honest we've gotten to know them better since we've dropped in on them a couple times post retirement for all of us. That process continued this time as they welcomed us to their home for dinner and for beer, which Randy brews in the basement. We enjoy visiting breweries while travelling; Randy's was, I suppose, the micro-est of microbreweries. He handed me the menu for the day on a post-it note; I sampled several – YUM! Meanwhile Liz acquired a taste for Old Fashioneds (and Bourbon).
While in Bella Vista, our intention was to visit "Crystal Bridges," which is a fantastic museum of American Art created and nurtured by one of Sam Walton's Daughters. At least it is reputedly fantastic. Once again, WE FORGOT THE MUSEUM IS CLOSED ON TUESDAYS. We were there on Tuesday. Looking back at our notes from a previous visit to the area, we missed it then, too. That time it was a "sh*t happens" moment. This time it was just dumb. AAACCCKKKKK!! Oh well, I guess we'll just have to come back again. To be honest, I didn't get to all the beers on the post-it note anyway!
Lest anyone should think it was a total wasted trip (notwithstanding two FABULOUS meals with the Dietzes, of course), Rhonda made a couple of recommendations even before we knew Crystal Bridges was closed. We managed to get to the Museum of Native American History and the Pea Ridge National Military Memorial. Well, I can tell you these were both SPECTACULAR. Especially the former!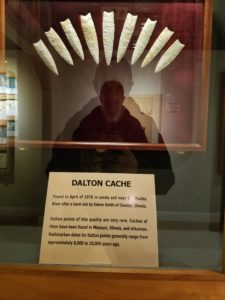 This museum grew out of the private collections and interests of a Walmart Executive, and is one of the MOST complete and informative museums I have ever been to. It places Native American Peoples and Cultures on a timeline from the beginning of time in North America to the present, with artifacts, dioramas, photographs, videos, audio descriptions and explanations. The collection of tools (arrowheads, knives, spears, bow and arrows, etc. etc. etc.) was a wonderment; never mind the pottery and textiles. This museum is one of those completely unexpected Gems – I highly recommend it if you ever find yourself in NW Arkansas.
The Pea Ridge Military Museum is a National Park – one of several we have been to that focus on major Civil War confrontations and battles. This one had a really excellent video presentation about the battles that occurred in the fields outside the center that turned the tide of the Civil War in the west.
I was struck by how random and quirky the outcome of this battle, and by extension, the entire war was. The battle at Pea Ridge was essentially lost by the outsized, vain and eccentric personality of the Confederate General in overall charge AND the (un)timely deaths of two other Confederate Generals leading troops large enuf and well positioned to win the day.
It seems General Van Dorn moved his entire army (16,000 strong) quickly to confront the Federal troops, leaving behind supplies and ammunition in favor of speed of motion. His ego did not allow him to consider more than swift victory, and this turned out to be a HUGE tactical mistake. And even then, with Confederate Troops massed and ready to overrun the Union positions, Generals McCulloch and McIntosh were killed by Union sharpshooters, leaving their troops simply waiting for orders to attack. If ANY of those random actions had happened differently (and by extension, similar quirks across the war), the outcome could easily have been different.
In the end, though, as with other Civil War battlefields we have visited, we were struck with the atrocity of war in all respects and on both sides. In that era, the brutality was up-close and personal. The atrocities, randomness of death, maiming and grief well documented in the accounts of survivors and civilians. I wonder if the world today would be as aggressive if more folks from conflicted areas could visit such memorials before waging the same on their neighbors.
Max, apparently, neglected to mention our visit to his wife until the day before… in the next post you'll find out if Max survived this oversight..
After our visit to Bella Vista, it was time to head south again, towards Weatherford Texas. There we are parking for a couple weeks on the driveway of a fellow Birdbrain (actually now a former Birdbrain and current SOB – Some Other Bus), Max Hendrix, whom we had yet to meet, but who offered his spot for us while we head back for Dad's birthday and Dentist Appointments and Doctor Appointments. Max even offered tools and help with any necessary repairs, knowing, does Max since he owned a Bird too, that there are ALWAYS necessary repairs!
We met one of Max's former coaches, which he sold to Paul Cambron, whom we have seen at a couple of rallies. Paul is nice (and his wife Debra is ESPECIALLY nice), and Max's former coach is nice, so is it therefore logical to extend the expectation of "niceness" to Max? We shall see!