As we continue our stay in Sydney, we are starting to do things that you might not get to if you had only the "usual" time available – it's what's great about "retired" travel vs. vacation travel.
For example, we took a ferry to Bondi (been there and done that before). Then we walked from Bondi to Watsons Bay, and along the way stopped in at Vaucluse House. This was a 1850s-era example of how wealthy Australians (In this case, the Wentworths) lived.
The Patriarch of the Wentworths was not always wealthy. The original "immigration" of Mr. Wentworth, though not quite as a convict, might as well have been. It seems he was one of those kids that was always in trouble at home (which was Britain in the early 1800's). When he was accused of "Highway Robbery" his wealthy parents sent him to Sydney so he wouldn't be SENT (as a convict) TO SYDNEY!
We had a complete tour and history lesson about the Wentworths and the House/Land from a volunteer named "Ron." (Not sure the guide's name is important, but it appears again later…). Quite an interesting history lesson, and we learned details about the house itself that we would never have figured out on our own. For example, The house was built over time without the benefit of an architect. So doors and hallways don't quite line up in foyers, and they have multiple doors, each a different height. The "main" stairwell up had an odd "hook" in the middle to get to one half of the upstairs, which was at a slightly different altitude than the other half. And the house never had a front door! Wentworth always had ambitions of a front door…there was even a Hallway that just ended in a wall where the door might have been planned. They just never got around to it.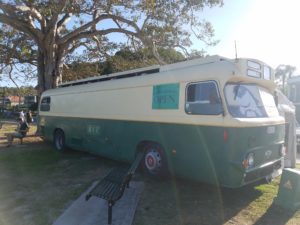 We went to "Palm Beach" north of Sydney and the Royal Botanical Gardens near the main Ferry Terminal. Near Palm Beach was an old Bus put to good use as a "Shark Museum." In the Botanical Gardens a fascinating "Wall" of plants.
We went to the "Rocks" area of Sydney for an afternoon, stopping first at "Mr. Wongs" Chinese Restaurant. This is a Sydney Institution in the CBD judging from the suits eating lunch there. A HUGE place. Very crowded at lunchtime. But down an alley. You'd have to know about it and seek it out or you'd never find it. Fortunately our host, Mr. Campbell, was in the know!
At Mr. Wongs, I was able to have a dish prepared with "Balmain Bugs." These are a crustacean like Moreton Bay Bugs sampled previously. Balmains are from Sydney; Moreton from Brisbane. I could not tell the difference between them, but Aussies are partisan about everything…especially sports, but bugs, too, it seems. I got the feeling that saying they seemed similar might land me in jail if I said "Seemed the same.." either in Sydney or in Brisbane.
And you don't want to take such chances in a former Penal Colony!
After Mr. Wongs, Peter provided us with an informal, though probably very well researched "RP Campbell Sydney Pub Crawl." First, we went to the Lord Nelson Hotel and brewery – a 175-year-old Taproom. Then to the "Hero of Wellington" Pub and then to a couple others who's names escape me (could be the cumulative effect of beer consumed at each). Then to the Australian Hotel, where they have Crocodile, Emu and Kangaroo Pizza on the menu. Peter said the Croc pizza was WAY more tasty if you catch the croc…confirming that these pizzas were only ever ordered by tourists.
PET PEEVE: Internet "Contact Us" forms that once submitted are never responded to
We decided one day to visit the Blue Mountains, Northwest of Sydney. Several options for getting there: Train, Tour Bus or the fluorescent rental car. We were intrigued by one of the tours, which advertised that no one over 50 should register unless they were "very fit" (i.e run marathons). A lot of walking, including some steep ascents and descents, apparently. We thought this might be just the tour for us…normally tours go at the speed of the slowest, and it therefore takes 8 hours to see 4 hours-worth of stuff. Given our active lifestyle, we thought we (well, at least Liz) fit the definition of "fit." But, unfortunately, the tour company never returned my contact.
So we decided to take the glow-vehicle and do the 4 hours in 4 hours. And we are very glad we did, allowing us to add some extra stops at the recommendation of our host!
The Blue Mountains are nice…scenic, in fact. Several quaint villages, overrun by tourists being disgorged from tour buses at all the vistas and stopping points. Making the hikes we took to see all these "important" sights somewhat like cattle-drives. And, it was quite hot and humid, so we were pretty wilted and drenched with sweat by the time we could "achieve" the beer we so richly deserved.
Before that beer, Peter had recommended that we stop to see the Norman Lindsay Gallery, which is on the way between Sydney and the B-Mountains. And NOT on any tour or train route! Lindsay was a painter and also did a lot of etchings. Mostly nude female figures, but also cats and dogs. And we got a private tour and history lesson about Mr. Lindsay and his times from a volunteer. Whose name was Ron.
Is "Ron" the name adopted by all Aussie Volunteer Tour guides? Just like telephone tech support reps, obviously VERY foreign, who introduce themselves as "Nick" or "Steve."
Anyway, Ron talked about how Lindsay's studios were constructed, the etching process, and Mr. Lindsay's own peculiar ways. Knowing these things gives his work more depth.
As always, weird stuff presents itself for our enjoyment along the way.
One day, we watched the Australian Guided Missile Cruiser "Hobart III" (the I and II have apparently been sunk over the years) do laps around the harbor. It would sail left, behind the North Head, then appear again heading inbound, reverse and disappear behind the Head again. Odd enough, but while the ship does this, we noted its crew running laps around the fantail. We further observed that the laps the crew ran were in the opposite direction of the path of the ship. Which may or may not be an important detail.
Peter tried to explain the physics of why this counter-rotation is important; something about helping the ship make tighter turns…I am pretty (but not absolutely) sure he was pulling my leg. I asked if the ship and the crew would travel in opposite directions in opposite directions (not stuttering there) in say, San Francisco.
The Hobart is a BIG ship. Further research indicates it is a NEW ship (First sailed in 2017), too. So maybe they are training or testing; or maybe that is the way the Australian Navy works out its crews – it being surely more strenuous for the crew to run against the ship… We watched all this from our table on the beach at Sydney Institution: "Doyles" in Watsons Bay after our 7-mile walk from Bondi.
Each day, our dining pleasure has been varied. Once a sampler plate of Asian Tapas Street food with an EXCELLENT cold beer. The aforementioned Balmain Bugs. Australian Meat Pies. Vegemite on toast. Sushi. Thai. Several cracks at seafood, including Fish and Chips. And usually with a Gelato Chaser. Or Starter. Or both. In fact, free-standing Gelato snacks were not uncommon.
We came to the end of our stay in Sydney. On the last night, Peter had arranged dinner at a revolving restaurant on top of the Australia Center in the CBD with a group of folks we knew well but hadn't seen in years…Venetia and Anthony Maher and David and Kerrie Lawson. The evening was magical as much for the conversation as the stunning overview of Sydney as daytime turned to night.
The next morning we packed up and left. Our hosts (Peter, the current and Norman the next) offered suggestions on the route and stops between Sydney and Melbourne. There are two routes…a coastal one and an inland one. Neither would commit, even when pressed, to which was preferred, but both independently suggested the same stopping points on the two routes. Possibly because there just aren't that many places?