Pre-Paris: our flite left about 2 hours late. And we realized we don't care.
"Don't look back.

You are not

going there!"

–Patch seen on a jacket sleeve

.
What an AWESOME and unexpected summary of what we are trying to accomplish in retirement!
Train from the airport could have been in Chicago – except a bit more graffiti. Overheard spoken: German, Hindi, Italian, Spanish, Russian…and perhaps just a bit more French than one would hear on the "L."
There really IS an Eiffel tower…and you can see it directly outside of our boat.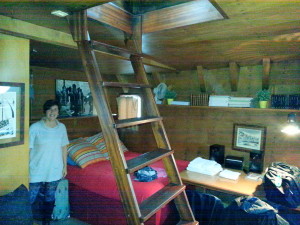 First impressions of our accommodations: Entering is like being tossed into the hold. Open the hatch and down a steep ladder.
But first impressions can deceive!
The cabin is WAY COOL. Small, but perfectly functional.  There is even EXCELLENT WiFI – so we can watch the Hawks tonite on the Slingbox.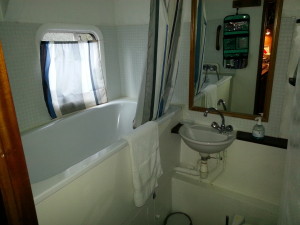 Except possibly the "Shower" which has total headroom of 3'. So there will be sitting showers only.
The boat bobs and the river gurgles. Just a little. So far not enough to require Dramamine for me. Liz, as always, is unaffected and already napping.
We really are ideally situated. The Louvre and Notre Dame appear to be about a mile and a half away along the Seine. With ample croissant and crepe opportunities along the way. Tomorrow we will try all of that, beginning with breakfast! The dinner cruise we booked for our anniversary leaves from a mooring about 200 yards away. The Musee D'Orsay is between us and the Louvre.