Our next stop on the adventure was Washington DC. Main purpose here was to help Aunt Marilee obtain and configure a new computer. Marilee is 104 years young…and that is totally factual. She produces fine art on her Mac computer, which is showing its age (Marilee is NOT showing her age). We agreed months ago that it was time for a new computer, and I agreed to spend a few days installing and setting it up in a familiar way. Liz agreed that this was NOT "work" and did not count as "unretiring."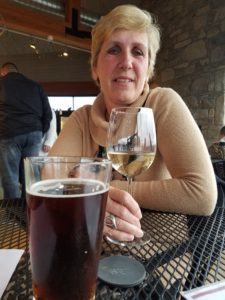 Looking f
or a place to stay in between Pittsburgh and Washington DC, we consulted HARVESTHOSTS.COM. There we found "Hauser Estates Winery" in Bigerlerville, PA. This winery was gorgeous, with a magnificent tasting room. And, within that tasting room…the opportunity for one of us to sample 10 different local Pennsylvania BEERS!!!! Not only that, the RV site overlooked the approach to Gettysburg by some of Lee's infantry. AND had live music!
So….we enjoyed wine, beer and music Saturday night. I had forgotten about Harvesthosts.com since our fantastic stay in Paso Robles, CA. From now on, this will be one of the first websites we consult, not an afterthought.
W
e visited the Gettysburg National Military Park on Sunday Morning. The visitor center has an AWESOME museum, movies, and cyclorama painting. The latter was the "IMAX" of it's day — a 360 degree painting of the battle of Gettysburg — Pickett's charge in particular — as it would have been seen from the Union Position at Cemetery Ridge.
Washington DC proved a little more (and less) challenging as far as a place to park the bus was concerned. There are really no RV parks anywhere close to metro DC. There was a Moose Lodge, but no one would return my calls (would you?). However…Old Friends Laurie and Paul Wilner (and by that I mean LONGTIME, not "old") suggested we should stay at their place in Potomac, MD. Less than 30 minutes from Marilee, they claimed to have a big circle drive and apparently very understanding neighbors!!! After confirming that they had not completely taken leave of their senses…and that their neighbors did not have firearms permits… we headed to their home and magnificent hospitality.