After our Dry Camping experience in Quartzsite, we followed a bunch of new Bluebirdbrain friends to Rocky Point (Puerto Peñasco) Mexico. If you are curious, though, here is a clip of what 70 Bluebirds in the Desert look like (Thanks Shane Fideli for the Drone Video)
"Soon" is a pretty relative term in Mexico
This is a sleepy resort town that is still descended upon by folks from Phoenix and Tucson during spring break, Xmas, etc. It was booming before the real estate recession in 2008, but now there are TONS of partially built condos and beach hotels. And the week we planned to be there was no such Holiday (well, it was Mexican Constitution Day, not a biggie in Phoenix and Tucson, but which becomes important later in the story), so the town was pretty much empty. There is a big, long, semi-complete jetty which is intended for Carnival Cruise ships. It has been partially complete for years…rumor has it that they had recently received a couple million more $$$ and were making concrete again with the intention of finishing "soon." "Soon" is a pretty relative term in Mexico; and of course it is still possible that all of the concrete needed will be diverted to the border wall, which the Mexicans will be building…
Sorry, no more politics. Thank you, dear reader(s), BTW. I had several DELIGHTFUL conversations after my recent political missive. Not all agreeing with my positions, of course, but also not divisive OR derisive. Perhaps there is hope for us?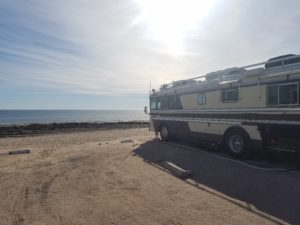 There is an RV park right on the Sea of Cortez (or Bay of California, depending on which side of the Wall you are on). Our Bluebirdbrain friends (and this group included a few "SOBs" which is what we call people with "Some Other Bus") all did the trip down in one shot; but we like to go slower than that. So we stopped overnight in a forgotten little town of Ajo, Az. Truly forgotten. And then met everyone at the border for "The Crossing," passing the even more completely forgotten and aptly named town of "Why, Az" on the way.
"The Crossing,", we had been led to expect with all the tension at the southern border, would be like an International Spy (or horror) movie. Federales armed with assault weapons disembarking from Tanks to inspect every nook and cranny of the bus, of ourselves (yuck!) and all of our paperwork.
Our "Ringleader," Curt Sprenger had prepared us for all the required paperwork, if not the nook and cranny inspection: Vehicle Registration for both the bus AND for the Car, TITLE for both vehicles, Mexican Liability Insurance for the date of travel ONLY on the bus and for the rest of the time in Mexico for the car, Passports (two copies), etc. All of this based on his many previous trips to Puerto Peñasco, where all of these were carefully inspected. Because Curt had emailed everyone these requirements well in advance, I actually had all of that pulled together, and placed in a folder in preparation for Armed Guards at the border.
EVERY TIME I give this number to someone, they look at me like I just landed from outer space.
One requirement made me a little nervous: Curt had PROMISED that the Federales would carefully inspect the vehicle registrations, Titles and the VIN numbers of the vehicles. The "VIN" is actually a problem for RV WHERE YET, which was built BEFORE there were actual VIN numbers (the 17-digit Alphanumeric numbers we have on ALL vehicles today). There is a "Chassis Serial Number" and a "Bluebird Coach Number" and several other numbers. All of the forms I have use the "Chassis Serial Number," which is 5-digit numeric, and is printed on a data plate under the Dash. EVERY TIME I give this number to someone, they look at me like I just landed from outer space. I was NOT looking forward to explaining this to a VERY well-armed Federale who speaks little or no English. I took a photo of the plate, and was prepared to disassemble the dash to prove it.
As it turned out, the Soldiers asked for NO PAPERWORK. No title, registration, proof of VIN, Passport, Insurance certificates…nothing. Not even an Andrew Jackson. They opened a few of our overhead bins. They looked at my clothing stuffed in the space under my bed. The drawers with pots and pans and tupperware. Then they motioned us through. Once again, RV WHERE YET and its occupants raised NO red flags or concerns whatsoever and we were shortly on our way. That was INTO Mexico. Still some trepidation about the "Caravan's" return to the States in 10 days.
But before that, we had MARGARITAS and BURRITOS to attend to.
…to put US tourists (and their discretionary spending) at ease
The rest of the trip to Puerto Penasco was completely uneventful. The Mexicans have designated the highway for the ENTIRE 50 miles a "Hassle Free" zone, to put US tourists (and their discretionary spending) at ease. In truth, there was basically nothing between the border and our RV Park…just as there was virtually nothing on the north side of the border…it's a pretty desolate area.
We were warned not to speed (speed limits posted in Km/h, which could trip US folks up!) and not to perform "Rolling Stops" at "ALTO" signs, many of which are missing or rusted out and nearly invisible. MANY intersections had 3-way stops, which were former 4-way's with a missing sign. Still illegal to roll thru, apparently.
And if pulled over, insist on being taken to the Police Station to pay the fine. None of that happened to us, of course, though one in our party got a ticket for missing one of those missing ALTOs. He went to the station, where he was offered a "special deal" discount on the ticket because of the holiday…
One of our goals in Mexico: Finding a Burrito as good as those we eat every time we return to Chicago. This has the added benefit of taking us to MANY MANY small, local restaurants and food stands. After thorough research, which we undertook with all due focus and energy, we have yet to find the holy grail (or holy burrito) — one exceeding or even equaling those we obtain in Chicago. Nor did Montezuma have his revenge. So all was good, but still leaving us with our gustatory reason(s) to go north (eventually).
There were some food options NOT available in Chicago. Puerto Penasco has a significant fishing fleet. One of the most plentiful catches is shrimp – big ones, available fresh off the boat. OH MY GOODNESS. These we had BBQ'd QUICKLY at the bus a couple times. DELICIOUS.
That made ME the closest thing to an expert.
One day, someone brought home a dozen Oysters, still in the shell. No one knew what to do with them. Liz and I had recently been to Dragos in NOLA, where we sat at the bar and watched the staff shuck them for an hour…that made ME the closest thing to an expert. I did not have, of course, the necessary knife OR heavy gloves, so this was a task that could easily have ended in the Mexican version of the emergency room. In the end, I used a sturdy butter knife, and managed to produce semi-mangled results (the oysters, not my fingers or hands). These were DELICIOUS, though I was the only person who ate any. I assured folks that the oysters just came out of the ocean – Montezuma did not have time to alter them in any unsavory way. Still, they were all mine.
And, of course, we met a bunch of new people who are our best friends now. Most memorable: Captain Blueberry and his delightful wife, Rhoda. And their wonder-dog, Gizmo. Really. You cannot make this stuff up! Brian (the Captain's given name) Gibler is a Blueberry Farmer from Oregon! Gizmo keeps the birds away. Rhoda keeps it all going in the appropriate direction. I think I have all that right…there were adult beverages involved. (Maybe Gizmo keeps it all going in the right direction!) I know SO MUCH MORE than I ever thought possible about this lovely fruit (and the lovely growers we partied with for a week). THIS is why we travel in our quirky, backroad way!!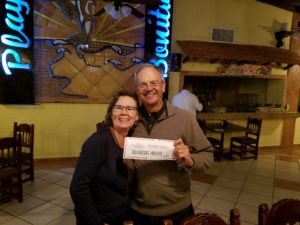 One night, Rick Archie (who will forever be known as imprimateur Ricardo Archi, which is how the restaurant had recorded the reservation he made), organized a dinner complete with Mariachi entertainment. He had taken up a collection before-hand $20/couple for the evening's entertainment. The musicians were known to our colleagues – having entertained them for years. They may even have been famous – they seemed well known in the restaurant. We even had cameo appearances by the bass-player's father and sister!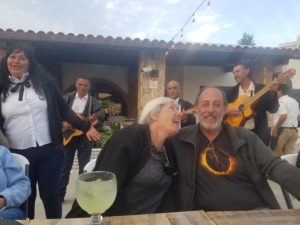 The evening was quite energetic and special; Liz and I even managed to execute a few dance moves around the largish-table.
And, quite UNBELIEVABLE sunsets; almost every night. The sky colors were so spectacular that the pictures actually ARE unbelievable. Be assured, photoshop was NOT used on these…I am not talented enough to produce such displays — they are therefore quite natural.
While in Mexico, I became an Accidental MEDICAL tourist. I broke a tooth! Strangely, NOT painful, but sharp edges were making mincemeat of my tongue. Did not think I could wait until getting back to Chicago in a month and a half, or even to Houston in a Couple weeks. So I looked up dentists on line. I found several with good reviews. HOWEVER, I also discovered it was "Mexican Constitution Day" and most everything was closed!!
I'll get straight to the results: GREAT service, delightful dentist, 24hrs to prepare, make and install a crown…
EVENTUALLY a dentist answered the phone. This one had NO reviews on line; Look, I don't stay in AIRBnB's with no reviews, but I was desperate…we made an appointment for the same day. Dr. Sicorro spoke enuf English ("Open." "Close." "Spit." "Rinse." "USD$250.") to get by. And her Grandson was her assistant – he spoke flawless English, which was helpful in trying to explain what antibiotic I needed to take beforehand due to my Hip Replacements. The prescription was filled at a pharmacy down the street, for US$3
I'll get straight to the results: GREAT service, delightful dentist, 24hrs to prepare, make and install a crown. No Pain – I can neither confirm nor deny that the injection at the start was Tequila, but my jaw was quite numb. I DO know there was NO SALT on the rim. And all of that for $250 — about 1/5 of what the same job would cost in Chicago, taking 2 weeks to complete. CASH, which I brought the next day after the banks reopened and we could visit an ATM.
Oooops, I slipped back into politics again…
Liz is going to be getting a crown in Chicago in March – we SERIOUSLY considered having Dr. Sicorro do the work. But, Liz wouldn't consider this until she saw that I had survived my procedure, and because we were leaving the next day even a quick 24 hrs would have not been enuf time. This whole experience has demonstrated how SCREWED UP our system of medical (and dental) care is, and why Medical Tourism is a huge industry.
The ATM was a bit of an adventure. I learned that the symbol for "Peso" is "$" I asked for 200 $. I got a 200-Peso Note. Even Dr. Socorro does not work that cheap! I had to run another transaction for $4,800. Stupid Tourist!
We departed Puerto Peñasco for the US, and a visit to a previously unknown cousin who lives in Tucson. We had passed through Tucson many times; but our last Blog Post about this alerted Aunt Marilee (whom I have mentioned before on these pages) and she said, "You MUST look up Andy and his wife, Mieko."
First, we had to clear the US Border heading back North. Again, prepared for the worst, given the kerfuffle about Caravans coming northward, and here we were in a Caravan! Again, a complete NON-EVENT. "Do you have any Fruits and Veggies on Board?" asked the very polite CBP agent. "A Lemon and a tomato, which actually came from the US in the first place," I answered. "Welcome Home – have a Nice Day," he responded.
We made it to Tucson, but a place to stay was an issue. The Tucson Gem Show was in full swing – biggest in the world. NO "formal" spots for RV WHERE YET. And, Andy's friend David was in town on a Gem buying trip for his store in Colorado, and was staying in Andy and Mieko's guest room. That David was there caused a moment of concern for Andy when we called – their guest room was full! Of course, Andy remembered from conversations with Marilee, and I affirmed, we travel in our own guest room. Andy said, "No Problem, we live in an industrial area and the space in front of our home, where there SHOULD BE a sidewalk, is a gravel/sand space suitable for your Bus.
To prepare Andy for the inevitable, I sent a picture and dimensions of the bus, along with a clip from "Nat Lampoon Xmas Vacation" of Cousin Eddie emptying the shitter. We usually get "the look" when we show up having been offered a driveway – this is our way of preparing our host, "Are you SURE we can stay there?"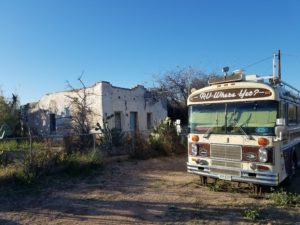 Anyway, Andy's spot was perfect…we fit, and after initial glances (askew) from the neighbors whom we assured we were RELATED to Andy (and, perhaps more importantly for neighborhood relations, were leaving the next morning!), we settled down to a DELIGHTFUL evening.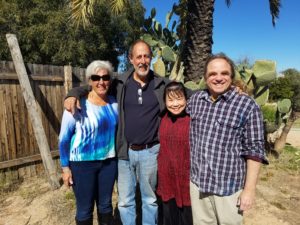 First we tried to figure out how Andy and I were related. On my Geneology site, which I have been accumulating for years based on material my father collected, there was no "Iventosch" listed. I called Marilee, and she guided me down the branches of the tree to a leaf labelled "Unknown Male" son of "Unknown Female" Daughter of…until we finally found a name leading back to my Grandmother (Marilee's sister)!!!
Andy (no longer "unknown male") is my third cousin! It was great to fill in some of those details!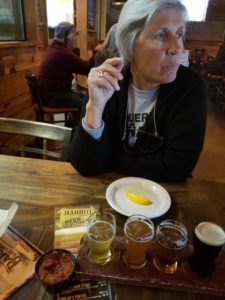 AND, dinner was great, too. Mexican BBQ Chicken carried out, and a Sashimi on Rice dish (also could be called LOX and Rice)! Liz and I had purchased a couple pints of "Ginger-Pear" Sorbet from a local Ice Cream shop (the "Screamery"). Prior to dinner, Liz and I walked over to "Barrio Brewing Company," which was virtually around the corner, and had a flite.
Tucson was a gustatory success, for sure!
Andy is a Potter by profession…and he showed us some of his work. Offered us some stuff, in fact, which we declined (sadly) because of space limitations on board RV WHERE YET. We also learned a bit about the Gem Show from Andy, and from David. Over dinner, a helpful, if not fully accurate definition of a "Gem" was offered for a neophyte: If it is polished, it is a Gem. If it is not, it is the bench, booth, box, concrete, packing material or other substance. I know it is more complicated than that, but booth after booth of rocks starts to look that way if you are not in the business or hobby.
Our final task in Tucson was to have breakfast with Dance Club friends Heidii and Jack Wells, who winter in Tucson. More gustatory success coupled with excellent conversation. After which we moved onwards.