Our stay in Vegas commenced with arrival at the CLARK COUNTY SHOOTING RANGE. This place was recommended to us as a replacement for the Dishonest and Unethical RV spot that we had booked in town. And, it turns out, the recommendations were SPOT ON, much as the shooters are (mostly) spot on at their stations!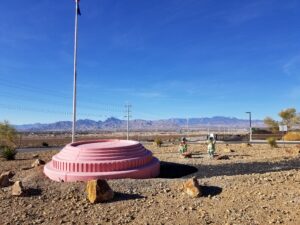 Entering the "Shooting Range," there is a monument to what might be taking place at this location…. We ALL KNOW that ALIENS (apparently) frequent the areas around Las Vegas; the Gate Display made me think that each and every Sporting Clay MIGHT BE a Flying Saucer! Who is to say that "little green men" are not really "extremely little green men?!"
I worry, though, Could the clay saucers being so violently "ended" amount to goading those tiny aliens into Galactic Conflict? Or, conversely, are the shooters actually saving the earth with every spaceship they shatter? IDK.
In any case, whatever Galactic Violence occurs at the Range, the RV spot was really EXCELLENT. It is on the foothills above and to the North of Vegas, so at night (all night, every night!) you see all the lights arrayed out to the horizon. It is a simple drive Downtown or to the Strip. And the Price is totally right!
So, on to our Vegas Experiences…
As mentioned before, this trip was initiated and revolved around Basketball. Chet's Gonzaga Bulldogs were playing three games, two against Ranked opponents. My sister, BIL and Niece stayed at the MGM Aria, next to the arena, and we motivated ourselves there each day for the duration, valet parking our car at the Aria as "David Holmgren." And, I am here to tell you, you CAN beat the House in Las Vegas! Here is how:
IMHO, if you are drinking "Smart Water" it is clearly NOT WORKING!
The "Minibar" surcharge has taken on a WHOLE NEW LEVEL of vindictiveness in Vegas. They have sensors on the fridge that can notice if you put your own stuff in there, adding charges for this service to your bill. Not enuf that they would charge you $20 for a bottle of SMART WATER, they are charging a fee just to keep your own water cold!!! If you OPEN THE DOOR TO THE FRIDGE, you have spent $20.
Here is how we beat THAT system (and stuck it to the man…):
Liz and I got down the cooler strapped to the back of the bus, and we stocked it fully at Walmart with Beer (a 12 pack being less expensive than a SINGLE beer from the minibar), Water, snacks, etc. And each day, end of day, we'd take inventory, stopping at Walmart on the way in the next day to replenish the Strategic Reserves. David, meanwhile, would obtain a bucket of Ice each day (Ice is still free – good thing NO ONE outside of Family and a few socially awkward acquaintances read this blog, or it might be NOT FREE now).
There was some Fambly time before and around Basketball…
I enjoyed this series of pics taken one evening when Chet Joined us for Dinner. I should note that Liz and I are standing throughout!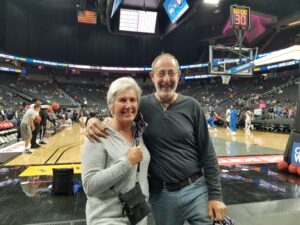 So, it was mostly ALL ABOUT BASKETBALL, and THAT did not disappoint. First, The Team had arranged seats for us – these turned out to be the Courtside ones normally reserved for Celebrities and Folks of Monumental Social Import, such as the Kardashians!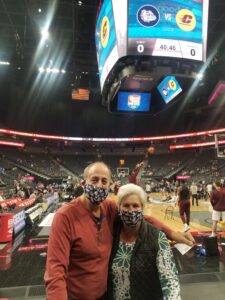 I have never had VIP treatment before, and Liz reminds me every day that this will NEVER happen again!
(I suppose, unless Chet is involved)!
One BIG advantage of sitting in these seats was we got to meet some of the other Gonzaga Players' Families. SOOOPER nice people – gracious and welcoming, even to Chet's "Funny Uncle." Some of the folks were also on the crazy side…adding to the whole festive atmosphere!
One big DISADVANTAGE to sitting in these seats was discovered by David when he asked me to switch seats with him. We had the PRIMO end-line, courtside seats, while the 'rents were "relegated" to the couple of rows behind the player bench. David has been videoing all of Chet's games (since third grade), and from those seats, not really possible to video any of the exciting bits, because the Players are all standing and exclaiming at those moments. Remember, the players are not miniscule, either!
So David asked if we could, and we switched.
YES, Ordered! That should have been the clue to impending doom.
While in my seat, David wanted a beer, and asked Liz if she wanted one. She ordered a Rum and Coke. YES, Ordered! That should have been the clue to impending doom. AT the end of the game, the courtside, VIP waiter brought the bill. I tried to hand him my card, but David refused – He was buying Liz's drink, Dammit. Well, ONE BEER and ONE RUM-COKE was $100 (before tip)!!
Apparently, "VIP" is an acronym for "Very Ignorant of Price."
David and I both looked a little pale … he because his generosity was now of an entirely unanticipated (and unjustified) magnitude, and me because, well, we are living on a fixed (i.e. $zero) income and we had just dodged a bullet that would have had us eating Ramen for a month.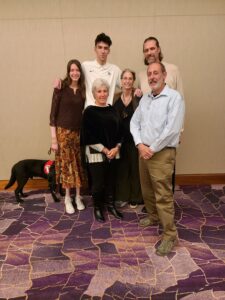 Speaking of Family, one of the REAL TREATS we experienced in Vegas was Thanksgiving Dinner with and at the Invitation of Chet's Team. Coach Few, B-Mike and Rog (and everyone else from Gonzaga in front of and behind the scenes) went out of their way to make families feel like they were with Family on the MOST family holiday of all. Liz and I REALLY appreciated the gesture – I am a bit misty-eye thinking about it even today!
Or, maybe I am slightly symptomatic and just need a COVID test (more on that in a minute).
And, speaking of "Appreciating," we appreciated that Coach Few asked the team to please let the families pass thru the Thanksgiving Buffet Line first, worried I think that there might not be any food LEFT if the Players went first! I mean, even the POINT GUARDS are GIANT PEOPLE.
I noted that Chet went thru the Dessert line first, so I guess I may have influenced him a wee bit, beyond his early Vocabulary (yes, I was THAT uncle – the one that taught him his first words: "HELL NO!" at the age of whatever)!
And, while on the subject of the Buffet: Coach Few did not need to worry that the food would run out. I have to say, the stuff was REALLY GOOD and REALLY PLENTIFUL – I have eaten at a lot of Hotel Buffets and eaten a lot of Buffet-Chicken over the years – this one was truly at the top of the quality-list.
The Basketball itself was lots of fun to watch. Gonzaga played a couple really good games, beating #2 (at the time) UCLA.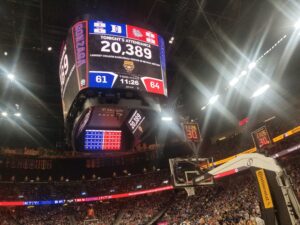 They did, however, lose the marquis match to Duke in front of 20,000 fans – the highest attendance at a college basketball game in Nevada EVER! Duke played tough and physical, some of the Zags (including Chet) got in Foul trouble. Yet, still, a couple of Tres (made by GU or missed by Duke) or a couple more free throws and the Zags would have won – it was close.
Not rationalizing, but I think maybe this was good for them – to lose early in the season, learn from it and grow their game accordingly. Time will tell if that happens.
An added, really special, apparently, feature at the UCLA game: Dick Vitale called this game (his first one back after a bout with Cancer and associated treatment). "Are You SERIOUS!, " about one of Chet's highlight-reel plays. Dick called Chet a "Diaper Dandy," which is apparently a compliment, one that he reserves for only the MOST ELITE talents.
[With the benefit of writing this blog in the future, I can say the Zags have played several more ranked opponents, and LOOK like they are taking in the Duke Lessons, though they also lost to Alabama in much the same way]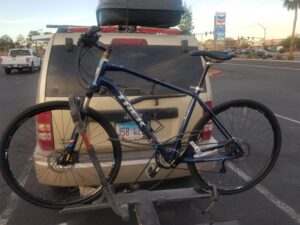 One more positive from our stay in Vegas: I managed to acquire a replacement for my stolen Bicycle; Liz's having already been acquired. I have been browsing Craigs List everywhere along the way, and found a bike that looked "right."
Worried that it might be stolen, I asked the seller for the serial number. So I could check the registry, I told him. There IS a registry of stolen Bikes, though FAR from 100% of stolen Bikes end up on it. I just figured that if he HAD stolen the bike, he would not have been willing to provide this number in case I was a cop or might have one waiting. He provided it no questions asked, so that made it probable it was NOT stolen. And it was NOT on any of the registries, so I made the deal.
To conclude the chapter on our Las Vegas trip, I need to describe our angst about a sniffle. I mentioned previously that we INTENDED to travel to Chicago for a week, leaving the Bus at the Shooting Range. Well, when we woke up the morning of our flite, Liz had the snuffles. Scratchy Throat. General Malaise. GREAT ! Not really the COVID syptoms we had been reading about, but similar enuf. It strikes me that if one sneezes in public, one gets stares, as though one is a bioweapon. Yet, we still have just regular old colds full of ordinary Green Snot, as we have for 60 years. That is the world we live in now!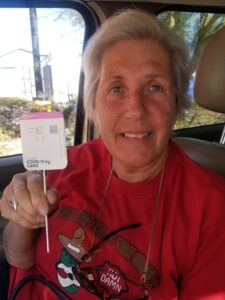 Anyway, certainly in good conscience we could not get on a plane without a negative COVID test, and we could NOT get a test and result quick enuf to make our flite. So, I called American Airlines to postpone our travel – they said we'd be able to apply the full value of our ticket to a future trip without any sort of change fee.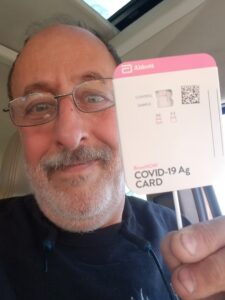 And, I was able to find a drive-thru COVID test options.
Long story short (well, less long, anyway), Liz and I both tested negative.
AND, I was able to rebook our Chicago Visit as part of a 3-leg trip to Spokane for more Basketball.
But, you'll have to wait for more on THAT in a future post!