Can't Escape Politics (Click Here)
As mentioned previously, we cannot be on a "vacation" since we are not working. This is just our life, now. SO, "Kiwification" should not be confused with "Kiwi Vacation." Instead it concerns how we are becoming embedded at the least, and incorporated in some ways into Kiwi Culture. There are many examples.
One thing I wondered, though. If there was an actual FIRE on Friday nights, could the Volunteer Brigade successfully extricate themselves from the social hall and Kiwi Burgers AND could the "Courtesy Van" serve its firefighting role? OK, that is two things.
We have gone to the open house at the Matarangi Volunteer Fire Station twice now for the regular Friday night social gathering. The entire community is there. The beer and wine flow (the Fire guys have a "courtesy shuttle" in case the beer and wine flow too much for some…).
The second time, we were encouraged to continue our Kiwification by consuming a Fire Station "Kiwi Burger." This is a creation consisting of a burger (of course), an egg, Bacon (the round kind, not "streaky"), lettuce and a beet (one needs one's veggies) and Aioli (Kiwi Mayonnaise). With a HUGE side of Potato Wedges. And a Macs Gold Lager. You alternate eating and drinking the latter two with one hand, because you cannot put the former down without extreme consequences. Kiwis have mastered this; I made a mess.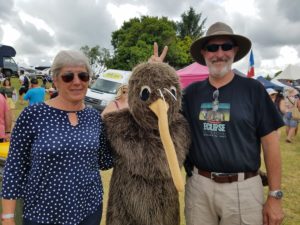 Food and drink is an important part of uptake into local culture in most places we have visited all over the world. No Exception here. We have been involved with several dinners and cocktail events at various neighbors, including FANTASTIC Barbecued Lamb at Harrier-Pilot-Harry and Sue's.
We went to the Keltic Faire in Whitianga where we had a meat pie and a mussel fritter. We had Kumara Chips (like a sweet-potato…almost), Ham, cheese and beet sammies. With Chow Chow, which is a Kiwi pickle-relish-like thing.
In the worldwide code of such relishes, ChowChow is required to be a colour not found in nature, and it is! In this case it was YELLOW (not yellow); while Chicago-relish is of course a fluorescent green that can be seen from space.
We had pickled/marinated cocktail mussels and onions. Smoked, creamed fish. One night we had a picnic on the beach, food provided by a Balinese food truck.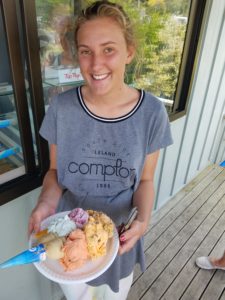 We also had Kuaotunu Ice Cream…but not the FIVE-SCOOP "Kuaotunu Killer" that a svelte young lady purchased before us and devoured in front of us! A Missed opportunity as we could have had ALL of the new flavours we have experienced in ONE FINAL MEAL (Hokey-Pokey, Goody-Goody-GumDrop, Passion Fruit, Orange-ChocChip and even a new one: Gold Rush…)
Gold Rush is like hokey-pokey but with chocolate bits…nearly the perfect combo! I "settled" for one scoop of that!
Our goal (yet to be seen if this is achieved) is to have fresh Scallops, washed up on the beach by a storm. So far we have combed the entire beach at low tide twice…lots of half-shells, but no sushi. We even canvassed the Grocers (who buy locally) to no avail. We were told the storm interfered with fishing efforts. BUMMER.
Our Kiwification was greatly enhanced by conversation with the daughter-in-law of the Wilson's neighbors. Nancy is from Milwaukee! Been here a long time, though, so we discussed her kiwification, which is of course much further along than ours. As soon as she realized where we were from, her accent slipped back to her Milwaukee roots. She probably appreciated being able to speak the mother tongue and we appreciated being able to put down the Phrase-book for a bit.
You can tell our Kiwification is nearly complete by our preparation for cocktails next door one evening. Liz no longer asked if she should change out of her shorts and t-shirt (to the instant retort from Kevin, "Naaaoooh" – Kiwi for are you crazy?) and I washed the beach sand off my bare feet (which is considered almost "formal dress" around here!).
We HAVE also done some tourist-type things, too. In our last post we mentioned Hot Water Beach. It's a geothermal area where the hot water comes up through the sand. Interesting enough, but our visit was intensified by the crowds, making for awesome people-watching. Our hosts had been years ago, and not on a holiday period so the crowds were an extra "bonus" for them, too. What we found was about 1,000 people, mostly from elsewhere, digging seemingly random holes at low tide and then sitting in them. Like a crazy tourist-rookery (wondering what would hatch from a "nest" sat-upon by [you pick the nationality]).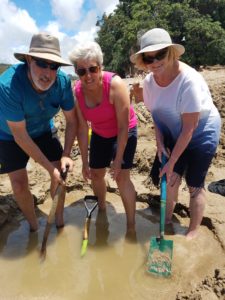 Not random at all, it turns out. We learned that not EVERY hole produces hot water; explaining the empty ones around the fringes of the crowd. Some Aussies eventually offered that we could share their hole (stop what you are thinking…it is a FAMILY beach…).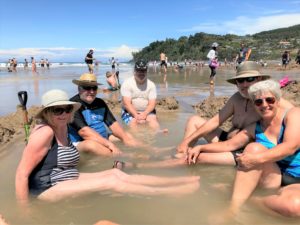 We quickly learned that this is not just a decadent tourist thing, soaking in a geothermal bath. It is an engineering exercise. It seems the spring water is WAY TOO HOT to sit in directly, And the volume emanated is not extreme. SO one digs a hole (which is quite an effort, actually) and then undertakes an aqueduct-like building project to divert just the right amount of hot water into one's pool, which is otherwise filled with sea water. Speaking of which, an occasional rogue wave threatened to dissolve the seaward wall of our pool, so some major and ongoing, multinational effort went into trenching and reinforcing that side.
The end result is like a twig of grapes (pools) emanating from the aqueduct stem. Temp is regulated by alternately directing the hot water into the various grapes, being careful not to divert the stream into one's pool for too long lest some of the other grapes (and tourists contained therein) became too cold.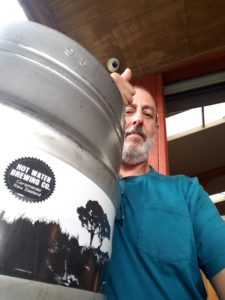 The effort required to decadently soak (physical to dig and mental to design and maintain the proper aqueduct feed) created quite a thirst. So, we stopped at the nearby Hot Water Brewing Company for a delicious refreshment. The road to there was surrounded by hop vines…so the ingredients are very local! Our servers were Dutch and French; their t-shirts said "Working for Beer." They were also well along in their kiwification, I think.
A couple of other tourist-things. One was a Glass-Bottom Boat to "Cathedral Cove" and various other coastal wonders. Kevin and Pam admitted they had never done this, despite having a place in the area for twenty-some years! So, either tourist-tacky or worthwhile, but in either case, BOOKED. The boat was Glass-bottomed in case one does not want to use the provided snorkeling equipment…I decided wet was the place to be!
Another was a narrow-gauge train to the top of the Coromandel. I have to admit, I had VERY low expectations for this…the Brochure looked a little like the Disney Trams that take screaming kids through parking lots at theme parks. WOW, was that wrong…The Driving Creek Railway in Coromandel was one of those wonderous surprises and happy accidents that seem happen to us fairly frequently as we travel. It represents the life work of sculptor, ceramic artist and home-made engineer (in all the meanings of that word!) Barry Brickell. Barry sort of created a commune for artists of all types, but mainly folks working in ceramic.
An objective person would call him (and it) BAT-SHIT CRAZY
Somehow in his mind, building a narrow-gauge train up the side of his reserve – by his own hand, with trestles and track and even the train cars and engines themselves all built and engineerd from sketches he had done of various mountain railways, seemed the obvious thing to do. The rails themselves were obtained from other railways as they replaced their tracks over the years.
Nevertheless, you take this magnificent creation – the chugging narrow-gauge cars and the trackwork they ride on — from the bottom of the hill to the top. Along the way whimsical ceramic creations live in the forest, the tunnels have real mouths that swallow trains, the track is lined by home-made decorative ceramic bricks and tile walls, and hillside retaining walls are made from empty wine and beer bottles (presumably Barry was very thirsty). Finally, one views the surroundings from the "Eyefull Tower." Not making this up…a Kiwi attempt at humour.
All of this followed by an exquisite dinner at the Wilson's favorite restaurant, where we finally ate New Zealand Scallops. For some reason one dish on the menu featured "Canada Scallops." Why would we do that? We specified the fresh NZ variety which can be differentiated from the hopefully frozen ones by the Tongue and Roe.
Our hosts, Kevin and Pam have been gracious to the MAX, and claim (still, even!) that they are delighted we are here. Nancy (from Milwaukee) said Kiwi Hosts are like that…preferring their guest to stay for more than Ben Franklin's [guests and fish smell after] "three days." Because Ben could not have known that guests have to travel 3 days just to get to NZ. If he had known, surely he would have been less absolute?
But, I did notice a subtle change in Kevin's expression one day. Let me 'splain.
For a few days we had quite a powerful meteorological event here. Not a typhoon or cyclone, but disruptive nonetheless. I know, not the same as the snow and cold gripping the states (gee, we miss that…), but still quite impressive. Lots of rain and very heavy winds pushing water ahead of king tides, which together have led to substantial flooding. The pier and ramp we used to launch the boat for fishing was completely submerged for a time. The road to Matarangi from Auckland was flooded and in places along the coast undermined significantly and/or covered with mud and rock slides.
The latter explains Kevin's expression – he was genuinely fearful that, as welcome as we have been to stay here (he continues to say…), he may not be able to deliver us to the airport for our onward flight!!! He realized WE COULD BE STUCK HERE!!! Panic was evident in his expression — there is, apparently, a limit even to Kiwi Hospitality!
Not to worry, though, his expression brightened with the thought of a solution (or a Chardonnay, or both)…It seems when there is a medical emergency in Matarangi, there is a Medevac Chopper to Auckland. Kevin realized I could have an "episode," and when arriving at the hospital say, "I feel much better, could you call me a cab to the airport…?"
Either that or Kevin would follow this strategy…I am not sure which he was thinking, to be honest…but either would solve the guest-duration problem.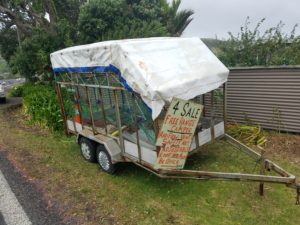 On the way back from soaking-in-a-hole-with-Aussies, we happened upon a unique caravan opportunity, should we decide to come back and spend some time here (and having SURELY worn out our welcome at the Wilsons).