We have just spent ANOTHER significant holiday with THE MOST DELIGHTFUL people imaginable. These are the McNicolls, who are related by marriage (Liz's Brother's in-laws). They have graciously welcomed us into their home and to their holiday table three times, now – XMAS twice and Easter once and we are grateful for their generosity and full-on southern hospitality. But first, we need to tell you about how we got to Brunswick, because it is always about the journey, not the destination, even when the destination is so special!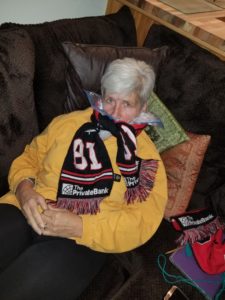 Before we left Chicago, we enjoyed some of the fun-stuff our "home" offers. In actuality, our Home is RV WHERE YET, these days; our apartment in Chicago feels more like a VERY nice hotel with lots of friends around. LOTS of fun, including a Formal Dance, Ice Skating in front of Chicago's SPECTACULAR Skyline, dining with friends whom we have missed and think about all the time, a visit for each of us to our dentist, for Liz to her oncologist and an unexpected trip to an Oral Surgeon. And, Liz is expanding her list of medical "friends" she needs to visit – her cardiologist!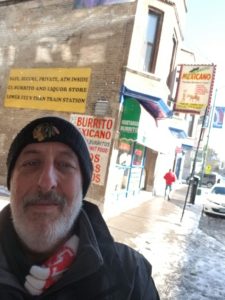 Before anyone worries, please don't! She's fine; this was a followup from some symptoms she experienced at 9,000 feet this summer that turned out to be mostly due to dehydration. WHO KNEW Wine doesn't count!? Anyway, she has no ongoing issues other than a prescription for a Statin and Baby Aspirin. (I was worried the doc was going to urge her to reduce stress in her life – where would I go?)
And, Of COURSE, we had Burritos! More than once! That is a given.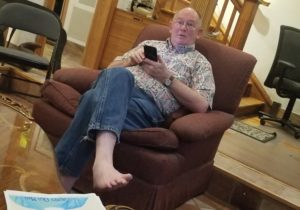 And, we participated in a first for us – A TWO DAY Party!!!! Dec. 12, 2019 was Liz's 39th birthday (for the 22nd time), and we hosted an EPIC Open House and Soiree. It began on Saturday at 2:00 PM and ended on Sunday at 10:00 PM. Through the days and hours, a seemingly endless stream of friends and family wandered thru our "Hotel" and helped Liz celebrate the occasion. We even had the pleasure of a more-than-cameo visit of college friends who flew in for the occasion – or perhaps for Pizza, Beer and other Chicago Amenities; we will never know for sure WHY but it was GREAT to see them!
The party featured waves of Liz's famous Kolachki Cookies, and a new treat: Pierogis, which Liz created in what became for a time our little Polish Gourmet Comestable factory.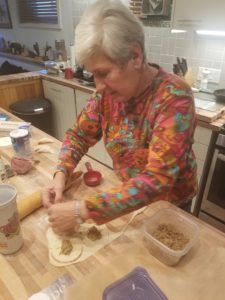 Our apartment had, at times, 30+ people within. At one point, Liz looked at me and said, "We are NEVER having a TWO DAY party again." Actually, though, I think it makes a lot of sense – you don't have to clean up between days, and you get to spend more time individually with folks who wander in over the course of the two days.
So, I AM PRETTY SURE WE WILL DO SUMTHIN LIKE THIS AGAIN; Don't know how we top this, but we'll spend some time thinking on it, I assure you!!!
Then, we left Chicago to begin the next year of our life on the road – hard to believe we have been travelling for THREE FULL YEARS, and are starting our fourth; But that's a fact!
That does not answer the sanity question, I know!!
We are often asked, "How long are you gonna do this?" Based on the tone of voice of the questioner, we can tell what they think of our lifestyle – ranging from worry (about our sanity and the safety of children and pets around us) to jealousy. The answer from our point of view is, "Well, as long as we are having fun, and we are DEFINITELY still having fun!"
Our first destination was Bainbridge, GA., where RV WHERE YET has been parked under the watchful eye of Randy Dupree. That's too far for us to go in one shot, so we made three days out of it! One night just outside of Louisville, KY. in a flea-bag hotel. But this flea-bag had a Waffle House ACROSS THE PARKING LOT and a DQ just down the road. So, ALL GOOD!!!
The next night we spent in Atlanta with Liz's Brother and Family. Sort of a preview of XMAS at the McNicolls since we were meeting David and Stephanie and "The Three Amigos" (having NOTHING to do with Ukraine – referring here to Liz's nephews Eddie, Joseph and Phillip) IN Brunswick for the Holiday.
After re-activating the Bus and taking Randy out to Dinner in gratitude for hosting RV WHERE YET, if not us, we started towards the Georgia Coast and our appointment with XMAS Destiny.
First, we spent a couple evenings with the Ramseys in Blountstown, Florida; then onwards. Driving in horrible, rainy, foggy weather we came upon the aftermath of a HORRIBLE Accident on the highway. A Semi had somehow lost control and the ENTIRE CAB was peeled off the chassis by an overhead sign. The truck's chassis and attached trailer had continued down the road for several hundred feet or so. This part, except for the lack of a cab, was virtually undamaged where it had seemingly pulled to a stop – like it was an intentional driverless vehicle! Fortunately, no one was seriously injured, but we were stopped for almost 2 hours.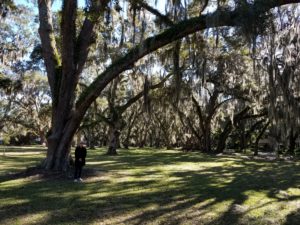 Once we arrived in Brunswick, we did some wandering around the area…there is a stark contrast between Brunswick and St. Simons. And Sea Island is even more extreme (and inaccessible to mere rabble such as us). Brunswick is a charming old town, trying to reinvent itself. Low cost of living, reasonable property values, charming old buildings, squares, etc. Brunswick downtown has some older building just BEGGING for renovation.
St. Simons/Sea Island, on the other hand, are hoity-toity expensive and TOTALLY over-impressed with themselves. SUPER expensive. Lots of Gates. Hard to find parking. Etc. The contrast reminded us of our "Likeability Index" for tourist destinations. That is: The Higher the ratio of Locals to Visitors, the better WE like a place. So, Camden, Me was WAY better (for us) than Bar Harbor; Pensacola (or even Biloxi, Ms) better than St. Pete; and Brunswick better than Jekyll/St.Simon.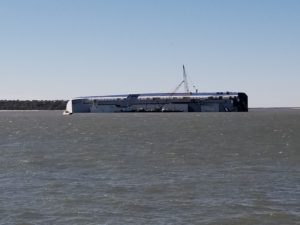 One new feature on Brunswick's waterfront – a "RoRo" (roll-on-roll-off Automotive transport) ship that ran aground and capsized as it was leaving Brunswick and heading through the shipping channel between Jekyll and St. Simons Islands in September. Imagine waking up and enjoying coffee (actually, it would have to be a Latte or a Machiado) on the deck of your WAY-OVERPRICED St. Simons Condomium and seeing THIS just offshore!!! The very definition of a Bad Day – ½ Billion dollars of ship and 4,000+ new BMWs now so much scrap!!!
Part of the story of the accident is one of quiet heroism by the local Brunswick River Pilot, who was taking the ship through the channel as it left port. Something BAD went wrong (NTSB has not figured out and/or announced what that was, yet), and the ship started taking on a SERIOUS list to Starboard. The Pilot, realizing the ship was going to be lost, steered it onto the shallows near Jekyll Island where it grounded and capsized OUT OF THE SHIPPING CHANNEL. And, ALL HANDS were ultimately rescued. This is Sullenberger-level clear thinking!
Shipping accounts for a GREAT DEAL of Brunswick's economy, and that ship will need to be disassembled piece by piece – it will take YEARS. This clear-headed decision may have also saved the town of Brunswick, because when the ship ultimately DID capsize, it did NOT block the channel.
While parked in Brunswick's Blythe Island County Park for the holidays, I used the time to replace RV WHERE YET's entire suite of Tail, Signal, Brake and Marker Lights with new, BRIGHT LED fixtures. The old sockets for all of these were corroded, and the old-style incandescent lights were very dim – when they worked. I even added an LED strip high on the bus.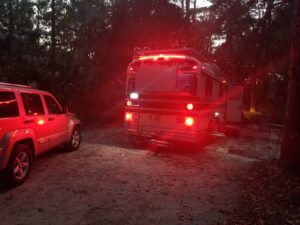 The new lights are SOOOO BRIGHT you almost need sunglasses – and I figure anything one can do to be more visible from behind, as we SLOWLY proceed down the road, has to be a good thing! I also reorganized the wiring for the Tow car lights, added a license-plate light, etc.
XMAS itself was, I guess, as XMAS is everywhere. I cannot comment on the religious or spiritual aspects – these are not so meaningful for me. But, the general commercial level of excess seems consistent in all the places around the world where we have spent the holiday season over the years.
For example, witness the McNicoll's Dancing and Singing Santa Claus Figure – life size and creepy to the max!! To be clear, it's not unpleasant excess, but Liz and I don't have reason to participate. Instead, we are like voyeurs, except we enjoy and gladly participate in the camaraderie and good cheer. And, of course, we more than merely participate in the gustatory excess all around us!!
Subtley, things HAVE changed through the almost 30 years Liz and I have been "enjoying" the sugar-spiked XMAS excitement of young nephews and nieces. This year, just as in the "old Days" (yes, I am old, and Liz is now also old, having just turned 60 so we are allowed to wax philosophic), there were all sorts of low-tech hijinks. Tickle-machines. Pink-Butt spankings. Hiding all the XMAS presents. Eating Liz's Kolachkis. This year, however, there was a new and fortelling, if not foreboding, exchange:
Phillip (Liz's 3-year old Nephew): "Alexa, why is Aunt Lizbeth bothering me?"
(Phillip had just gotten a pink-butt-spanking from Liz!)
Alexa: "I'm sorry, I don't have that answer"
Whew….I thought it was just me that didn't have (and likely will never have) that answer!!
Clearly, "A Christmas Story" will need to be redone to maintain relevance; In the remake, Alexa, voiced by Oprah Winfrey, will be one of the many who tell Ralphie: "You'll shoot your eye out…"