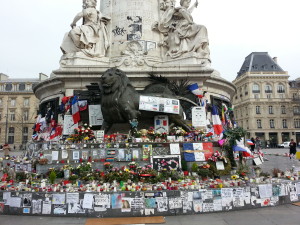 Misfits report another 8 miles walked today. However to expand our range we included the METRO in our excursion. We saw: the Bataclan and offices of Charlie Hebdo, as well as the Place de la République. The latter especially was quite moving, with many memorials and apolitical statements of sympathy and solidarity. Although most were in French, it was pretty easy to understand the meaning even without Google Translate. Particularly moving: pictures of very young people with words like "assassiné."  I don't want to say our lunch, after these, was "somber," but meditative for sure.
We also did some more "ordinary" things such as a visit to the Arc de Triomphe and a long walk down the Champs Elysees.
Yesterday we expanded our food horizon with Galletes and Crepes. Awesome and yummy. We also did a dinner cruise for 3 hours to celebrate our anniversary. A chuckle on the latter: our waiter (a really friendly guy named Joseph – I think Spanish) brought our dessert with candles and sang happy birthday to us!? Now, My birthday is SOON, but was not yesterday. I did alert the cruise folks about our anniversary (#25) when I booked. I guessed (since confirmed by Dr. Google) that "Anniversary" must be close to "Birthday" in meaning when translated to French. I am pretty sure that the waiter was surprised at how OLD we look for 25, but he was not going to ruin our evening by saying so ;-p
Tonight, we are going to try a restaurant from a book given to us by our good friend Karen Peterson. So far, we have been doing pretty well food-wise by just stopping when hungry at the nearest place. I am looking forward to a place actually vetted by someone!!